Training courses at INSTC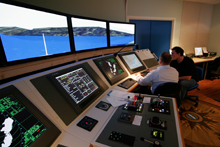 FURUNO INS Training Center provides state-of-the-art training and education for our trainees. The training is based on FURUNO's more than 60 years' experience gained by being a supplier to the maritime community.
All INSTC™ training courses, be it generic or type specific, include comprehensive theoretical lectures and hands-on training exercises. The purpose of the training courses is to provide the navigators with a thorough understanding of the equipment, knowledge on how to operate it properly and the know-how needed to determine the validity of the data provided - in short, the training familiarises the operator with all the functions and limitations of the equipment. The hands-on training includes training in modern navigation during normal operational conditions as well as during dangerous or critical circumstances.
All certified training courses are concluded with an assessment of the trainees' performance. This is done through theoretical and practical tests that have to be passed in order for the trainee to be awarded a certificate.
Practical Info
To guarantee the course quality and to ensure that all trainees get the maximum outcome from the courses, only 8 attendees are allowed on each training course. For customised training the maximum number of attendees is reduced to 6 per course.
INSTC™ Denmark and INSTC™ Singapore will be pleased to assist you with arrangement of hotel accommodation and transportation between the hotel and the training facility for the duration of a course.
As both INSTC™ facilities provide training "on request" most weeks of the year, courses can be booked at almost any time. However, it would be prudent to place a course booking early to ensure availability during your preferred training period. Please contact your preferred INSTC™ to inquire about free time slots and place your booking.
Terms of cancellation
Please note that these terms of cancellation only apply for the FURUNO INS Training facilities and not for any individual NavSkills™ facility.
By customers
| Period | Cancel Fee |
| --- | --- |
| 30 days prior | - |
| 15-29 days prior | 50% of course fee |
| 14 days prior | 75% of course fee |
In the event that a trainee is not able to attend the course, the customer may replace a registered trainee with a substitute participant. In the event that a registered participant does not attend the course, the full amount will be invoiced.
By INSTC
INSTC reserves the right to cancel a scheduled course up to 30 days prior to the commencement of a course on grounds of too few participants (minimum 4 trainees per course).