GPS/GNSS Modules
GPS Disciplined Oscillator
Model
GF-8048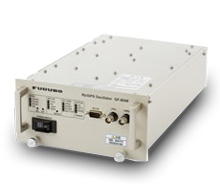 The GF-8048, GPS Disciplined Oscillator, is designed specifically for digital terrestrial broadcasting applications.
The GF-8048 can be used at the digital terrestrial broadcasting main stations as well as at satellite stations since it can output highly accurate and stable 1PPS and 10MHz even in blocked spaces or in severe conditions such as high electrical field areas.
The GF-8048 has a GPS receiver and a rubidium oscillator. It receives GPS signals and generates 1PPS (pulse per second) synchronized with UTC as well as 10MHz sine wave coherent to 1PPS.
The GF-8048 offers completely maintenance-free stability. Periodic maintenance work is not necessary.