GPS/GNSS Modules
GPS Disciplined Oscillator
Model
GF-8557
Discontinued Products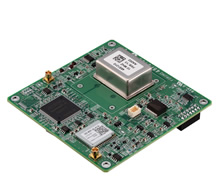 The GF-8557 is a high sensitivity GPS Disciplined Oscillator with internal OCXO, which provides highly-accurate and highly-stable 1PPS/10MHz.
The GF-8557 outputs 1PPS synchronized with UTC as well as 10MHz coherent to 1PPS.
The GF-8557 is designed especially for wireless broadband base stations for CDMA, WiMAX, and LTE networks and for multimedia broadcast base stations.