The WR110 is a compact and lightweight weather Radar that runs on any standard power outlet. This model is perfect for companies and local communities. It is a smart combination of high performance and ease of installation that offers a wide range of applications and possibilities.

Features
Easy installation

Compact and lightweight (ø98 cm, 65 kg)
No heavy equipment required for installation
Compatible with regular power outlet

Reduced operating costs

Solid-State
- Highly reliable, low maintenance.
- Long life solid-state transmission device
- Low power consumption(100V, 200W)
Radar status monitoring for optimized performance

Transportability

WR110 mounted on a trailer (example)

Wide range of transportation choices
Pickup, Van, Trailer, Small trucks...
Heading sensor for azimuth adjustment*
Vibration isolator for safe relocation and transport*
MIL-STD-810G Test Method 514.7 ANNEX C Category 4 Secured Cargo, Common carrier (US highway truck vibration exposure) Test1
WR110 case for easy transportation*

*Option

Various software applications available

Various data format compatibilities

Various data formats used in major software packages, such as Baron Lynx and Vaisala IRIS Focus, are available
Specifications
Antenna Polarization
Single polarization (Horizontal)
Operating Frequency
9.4 GHz band
Pulse Width
0.5 - 50 μs
Pulse Repetition Frequency(PRF)
up to 2,000 Hz
Beam Width
2.7 degrees
Peak Output Power
100 W
Vertical Scan Angle
-2 to 182 degrees (adjustable)
Antenna Rotation Speed
0.5 – 10 rpm
Observation Range
70 km max.
Scan Modes
PPI, Volume Scan, Sector PPI, Sector RHI
Output Parameters
Reflectivity factor Zh (dBZ), Doppler velocity V (m/s),
Doppler velocity width W (m/s), Rainfall intensity Rain (mm/h)
Data Correction
Distance and Rain attenuation, Doppler Velocity Folding
Doppler Speed
+/-64 m/s
Unwanted Signal Removal
Land clutter suppression and Interference Rejection
Available Data Formats
CF/Radial, Opera Odim HDF5, CF-compliant NetCDF (rain only) Grib2 (rain only)
Operating Temperature Range
-10 to +50°C (Start-up), -20 to +50°C (In operation)
Maximum Wind Survival Speed
90 m/s
Power Supply
100-240 VAC, Single phase, 50/60 Hz
Power Consumption
350 W max., 200 W typ.
Drawing
The WR110 can be transported through narrow spaces (800 mm) and disassembled if required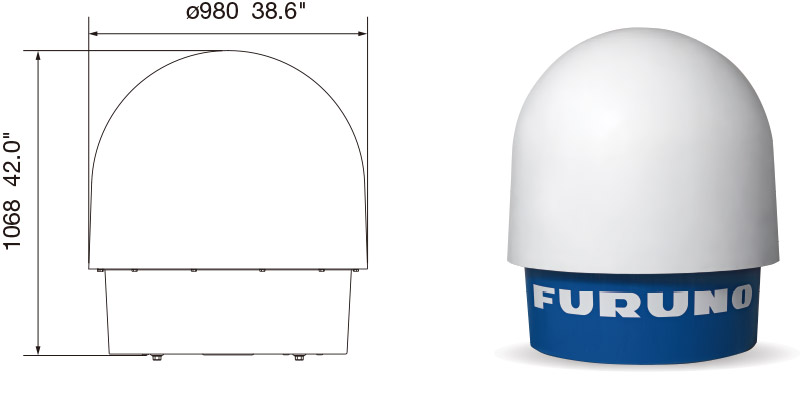 System configurations