Synchronization is key for providing wider area broadcasting.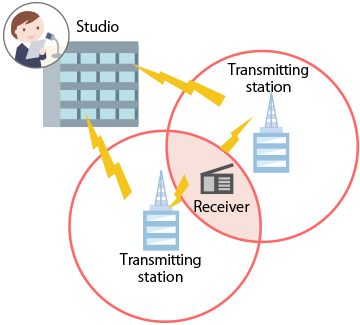 Multiple transmitting stations operating in a community broadcasting.
The coverage of community broadcasting can be expanded by increasing the number of transmitting stations. However it has the limitation of one specified frequency assigned to one broadcasting company. Consequently when increasing the number of stations it is necessary to prevent different station signals from interfering with each other in the overlapped broadcasting areas. Also it is needed to prevent interruption when a moving vehicle listener crosses the overlapped areas.
The problems of interference and interruption occur when there is a time difference between the broadcasting data from each transmitting station. In order to eliminate radio-frequency interference and to prevent traveling vehicle interruption problems, it is important to synchronize the transmitting timing from each station.
GNSS DO products provide excellent synchronization for transmitting stations. Each transmitting station would be equipped with highly precise, microsecond or nanosecond UTC enabled timing data. This allows each transmitting station to output a synchronized broadcasting signal.