Case Studies Community broadcasting Synchronization [Multi-GNSS Disciplined Oscillator]
What is community broadcasting?
Community broadcasting is a type of FM radio broadcasting with limited coverage for a specific area or town. It is operated to provide shared, local information using a radio broadcasting channel.
Synchronization is key for providing wider area broadcasting.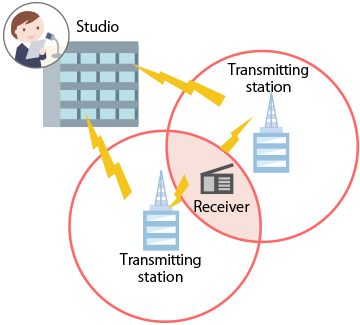 Multiple transmitting stations operating in a community broadcasting.
The coverage of community broadcasting can be expanded by increasing the number of transmitting stations. However it has the limitation of one specified frequency assigned to one broadcasting company. Consequently when increasing the number of stations it is necessary to prevent different station signals from interfering with each other in the overlapped broadcasting areas. Also it is needed to prevent interruption when a moving vehicle listener crosses the overlapped areas.
The problems of interference and interruption occur when there is a time difference between the broadcasting data from each transmitting station. In order to eliminate radio-frequency interference and to prevent traveling vehicle interruption problems, it is important to synchronize the transmitting timing from each station.
GNSS DO products provide excellent synchronization for transmitting stations. Each transmitting station would be equipped with highly precise, microsecond or nanosecond UTC enabled timing data. This allows each transmitting station to output a synchronized broadcasting signal.
Best GNSS DO products for community broadcasting
FURUNO provides excellent GNSS DO products for community broadcasting.
OCXO oscillators are well disciplined and provide highly precise timing and reference clock data.
The FURUNO GNSS DO holdover function continues providing precise timing and reference clock data even if GNSS signal is lost.
For many years FURUNO continues to be a well known and trusted GNSS supplier. Industries include broadcasting, telecom base stations, national infrastructure systems and many others.
Adoption example for community broadcasting

BS International Co., Ltd adopted FURUNO GNSS DO for their GPS sync signal producing device (GPSWS-10M-B). They insist on FURUNO GNSS DO only because of high performance and compactness.
©2014 FURUNO ELECTRIC CO.,LTD. All Rights Reserved.