In this article we will explain what is a GMC (Grand Master Clock), which enables highly accurate timing synchronization in network systems.
First we will explain why a GMC is needed. Then we will describe the GPS/GNSS timing technology, which is the key to the synchronization performance.
* GNSS (Global Navigation Satellite System)
A GNSS receiver is a system receiving signals from several constellations of global navigation satellites to provide position, velocity and time data.
GPS of USA, GLONASS of Russia and Galileo of Europe are all GNSS.
Network timing synchronization by GPS/GNSS timing receivers; is it essential for day traders?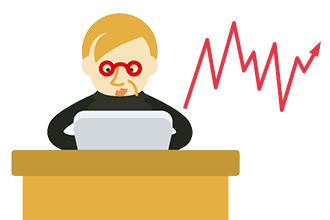 Mr. Gilbert is a day trader. One day, he suddenly came across with a question to himself.
"Trade prices can change so quickly, like within a second. As a day trader, a loss of time could crucially affect my business.
So it is not acceptable at all if there is a loss of time caused by poor networking. Now I cannot stop chasing the reality.
Does the security brokerage company I am using has a solid network system?"
Mr. Gilbert started by himself an investigation into the loss of time in security trading systems. After a while, he found out that such systems are capable enough to host super high-speed and heavy calculations, even down to a millisecond order, which surprised and also relieved Mr. Gilbert. In fact some of the security brokerage companies feature their significantly short latency in their promotional materials. Latency is usually referred as a criterion to show how durable the system is in terms of a loss of time.
Mr. Gilbert got deeply fascinated by the fact that day trading systems have been running in a significant way, which can support millisecond order transactions.
When he continues to study further on the way of managing the day trading systems, he found a very interesting article saying that GPS/GNSS technologies are used to determinate the system latency in the millisecond order or even less.
How come GPS has something to do with establishing the time and detecting latency with such accuracy?
Mr. Gilbert learned that GPS/GNSS satellites have a highly precise atomic clock and therefore a GPS/GNSS receiver gets the UTC time information from the satellites, which is an universal and absolute time information. In fact most of the security brokerage companies, as well as banks, obtain UTC information by the mean of GPS/GNSS receivers. Integrating the UTC time with time synchronization systems enable these firms to supervise the latency at sight.
Knowing what is behind the day trading system he relies on, Mr. Gilbert is relieved to know that the system has been running very safely.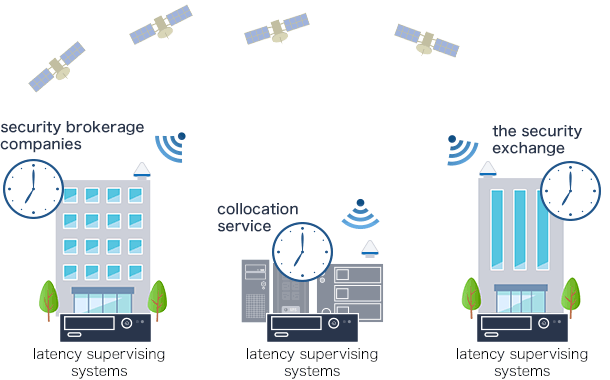 Timing synchronization inside the local network: NTP, PTP
There are many systems that need a precise time synchronization to work properly. For example, base stations for mobile phones and power source monitoring systems depend on such time synchronization. One of the most popular ways to have time synchronization is to use NTP, Network Time Protocol. This protocol of time synchronization was formulated by Dr. Professor David L. Mills of the University the Delaware.
Later on another time synchronization system became available for applications requiring higher precision. This system is called PTP, which stands for Precision Time Protocol. PTP is used for time synchronization of LAN (Local Area Network). Its specifications are formulated by the IEEE (Institute of Electrical and Electronics Engineers).
The key element of PTP: the Grand Master Clock (GMC)
Time synchronization systems by PTP are built around a master machine providing the standard time information and slave machines having a PTP communication with the master machine to get the synchronization.
Each slave machine in the network synchronizes with the master machine's standard time information. This is how the whole system runs under the same time information.
The GMC (GMC : Grand Master Clock) functions as the time master machine. The precision of the reference time information provided by the GMC is essential to guarantee the accuracy and stability of PTP's time synchronization of the all system.
Besides the time precision itself, the stability of the time is crucial to keep the precision of the time and to judge its quality.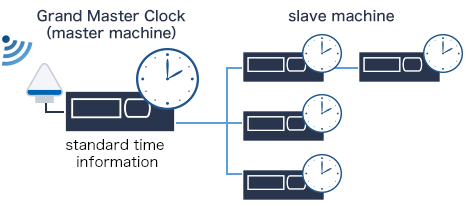 The most suitable GPS/GNSS Disciplined Oscillator for the GMC
The time information source implemented in the GMC should be one specially designed for timing application. As long as the GMC can properly synchronize with the GPS/GNSS satellites, it can receive highly precise time information and it is not required to perform a time calibration on a regular basis.
However extra attention needs to be paid especially when the GPS/GNSS synchronization (lock) is lost. Such outrage could be caused by radio interferences or a lightning damage to the GPS/GNSS antenna.
It is vitally important for the GMC to keep operating even the GPS/GNSS lock is lost, such operating mode is known as holdover mode.
Furuno multi GNSS disciplined oscillators of GF series support such operating mode.
Furuno GF series GNSS disciplined oscillators, with an on-board OCXO, output a highly precise 10MHz frequency and time pulse once per second (1PPS). The GF series disciplined oscillators also keep outputting a highly precise 10 MHz frequency and 1PPS in holdover mode. One of the most typical applications for the GF series is the GMC.
Furuno GF series offers a wide range of disciplined oscillators. GF-8801/8702/8703, the low cost models of the GF series, also have the industry's smallest size. GF-8805 is featured by its highest quality of holdover performance as well as its very low noise-phase. Furuno provides the best suitable options to those who have different types of requests in terms of size and performance. The GF series typical applications for are the GMC, wireless communication infrastructures and broadcasting equipment. They are also suitable for those who consider replacing atomic oscillators with a more cost effective solution.
Technology: What is a GPS/Multi-GNSS Disciplined Oscillator (GPSDO/GNSSDO)?
Countermeasure for GNSS receiver failure
We provide technical white papers for each of the typical failures caused by GNSS receiver. For each failures, our experts in time synchronization explain details about countermeasures on receiver side, using diagrams to show the effectiveness, and how to select products. If you are considering a GNSS receiver for the first time, please take a look.
Multipath in Urban area
White Paper: Industry-leading multipath mitigation in urban canyon environments
Jamming (interference wave)
White Paper: Measures against GNSS jamming (jamming wave)
Spoofing
White Paper: Measures against GNSS spoofing signals
Interruption of GNSS signal (holdover)
White Paper: "Holdover function" as measures against GNSS reception interruptions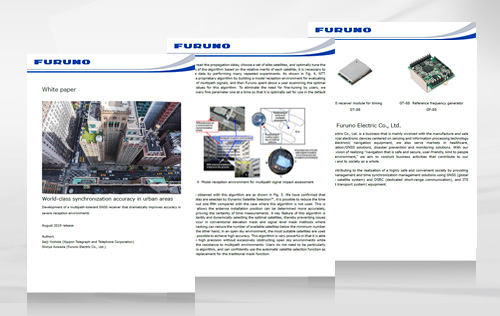 Telecommunication article
A basic explanation of how NTP/PTP works! Basics of Network Time Synchronization
A special download of the feature article "Basics of Network Time Synchronization," which published in the December 2021 issue of Telecommunication, is available.
The magazine covered multiple companies, resulting in a comprehensive article that is not biased toward any one company.
You can view the PDF as it looks in the magazine.
What is Time Synchronization?
How to obtain the reference time
How to synchronize the time
Key points when selecting solutions
Time synchronization market outlook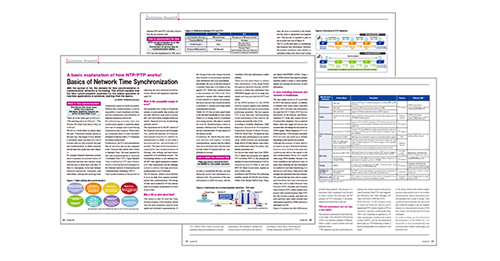 Related Products
Small size model
Highly accurate and low phase noise model
[OCXO equipped]


* The GF-8801/GF-8802/GF-8803/GF-8804/GF-8805 use the same communication protocol.
The GF-8801, GF-8802 and GF-8803 have the same footprint and are pin-to-pin compatible. The GF-8804 and GF-8805 have the same footprint and are pin-to-pin compatible.
This enables user-replaceable depending on customer requirements.