Sonar is divided into 3 main categories: Searchlight Sonar (PPI Sonar), Sector Scan Sonar, and Scanning Sonar.
Searchlight Sonar (PPI Sonar)
The searchlight Sonar is designed to display underwater information in a 360 degree view around the vessel. The Sonar can display information such as schools of fish and sea currents in a 360-degree view around the vessel by constantly rotating the sensor. It's just like using a flashlight to search for something near your boat. It is often installed on small fishing boats and in recent years it has been increasingly used on recreational boats.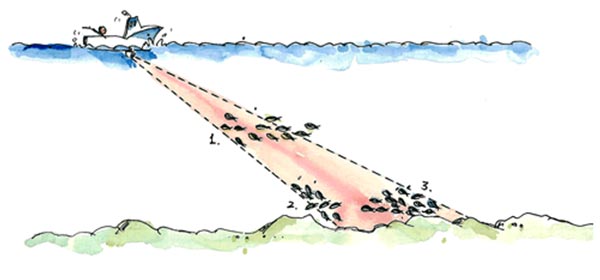 Searchlight Sonar image 1
Searchlight Sonar image 2
The Sonar is usually represented on the screen as a point at the center (the boat), surrounded by echoes in a circle around the ship.
Searchlight Sonar sends ultrasonic waves from the transducer (sensor) to the seabed, where the echoes are reflected back to the transducer.
The angle of the sensor then shifts as the next ultrasonic wave is transmitted. As soon as the ultrasonic waves are sent, the Sonar immediately switches to the receiving state and listen for the returning ultrasonic echoes.

The searchlight Sonar has a detection range of 6 degrees. By emitting ultrasound and then rotating the beam sequentially, it can detect schools of fish with fairly good precision. Because of the very narrow detection angle, it takes time for the sensor to make a full rotation, and as the boat is moving, some areas might stay undetected.
While the overall detection speed is slow, the miniaturisation of the sensor part makes it possible to install Searchlight Sonars on small boats.