Background
The center for the Collaborative Adaptive Sensing of the Atmosphere (CASA) Dallas–Fort Worth (DFW) Urban Demonstration Network consists of a high-resolution X-band radar network and a National Weather Service S-band radar system (i.e., KFWS radar).
There are 7 Dual-Polarimetric, X-band Doppler radars in the network. Three radars have been built by CASA, and four additional radars have been supplied by CASA's university and industry partners. A FURUNO weather radar is one of the radars provided to the DFW Demonstration network, The FURUNO weather radar was tested at Colorado State University (CSU) who is one of the partners in the DFW testbed in 2014 and it was transferred to DFW in 2015.
Using these radars, CASA has developed an end-to-end warning system that includes sensors, meteorological products, data dissemination, visualization, and user decision-support modules.
https://erc-assoc.org/content/first-casa-radar-network-deployed-texas-map-north-texas-showing-radar-network
http://www.casa.umass.edu/main/research/urbantestbed/
http://www.casa.umass.edu/main/research/urbantestbed/components/
University of North Texas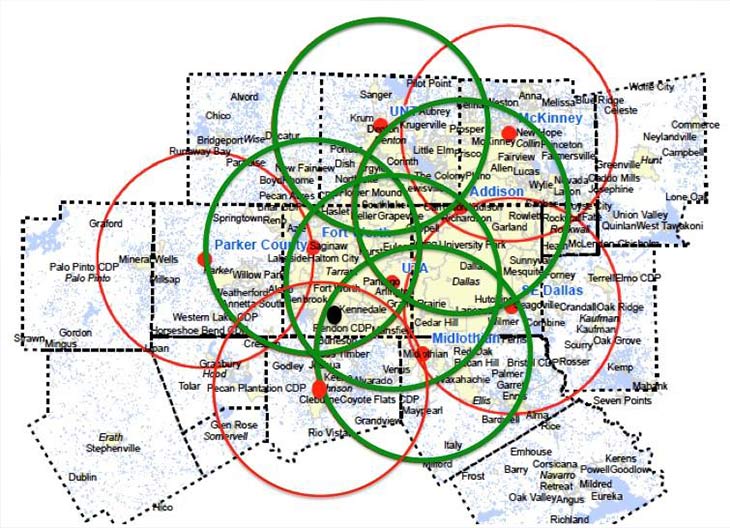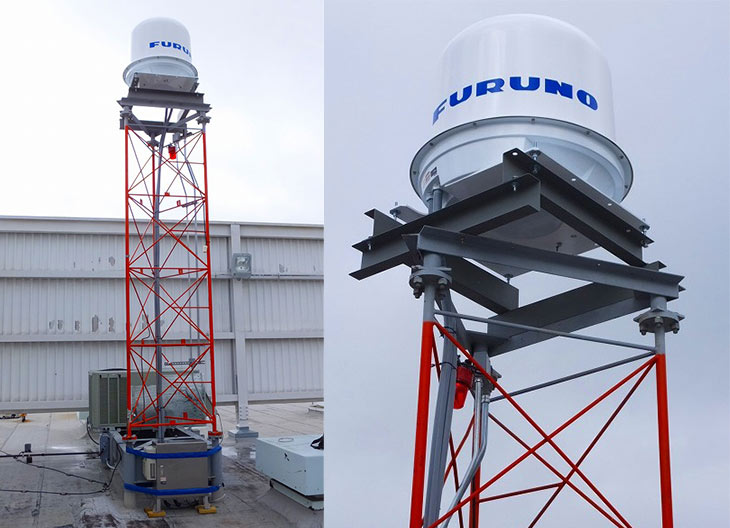 User voice
DFW radar network consists of original CASA radars from UMass, CSU plus radars from EWR Weather Radar, FURUNO and Enterprise Electronics Corporation.
Prof V. CHANDRASEKAR, Haonan CHEN (Colorado State University, Colorado, USA) said that FURUNO weather radar is very stable, operational weather radar. There have been no technical problems or interruption periods. He has been completely satisfied with the stability of the FURUNO weather radar and also technical support, always in the right place at the right time. The FURUNO weather radar is a reliable partner for long term weather observation.
Dr. Eric Lyons (Research fellow with CASA organization at the University of Massachusetts Amherst) was the operator of the FURUNO weather radar and observed countless weather phenomena, large hail, severe winds, and several tornadoes.
He said that the FURUNO weather radar does an outstanding job resolving the tornadoes. His team is deeply grateful for the valuable contribution FURUNO has made to the DFW network.
The US National Weather Service uses the FURUNO radar data in real time and has said it has given them confidence to issue tornado warnings and has helped advise their tornado damage surveys.
The National Weather Service office in North Texas sent out this image from the FURUNO radar on their official Twitter account:
https://twitter.com/NWSFortWorth/status/1134139258443317248
Reference:
Assimilation of CASA and WSR-88D radar data via 3DVAR to improve Short term convective weather forecasting
CASA DALLAS-FORT WORTH URBAN TESTBED OBSERVATIONS: NETWORK OF NETWORKS AT WORK
Principles of High-Resolution Radar Network for Hazard Mitigation and Disaster Management in an Urban Environment