Technologies to easily see what should be seen
Be it the reflections of waves above the ocean or those of rain or snow (Clutter), there is always a multitude of unwanted echoes that make their appearance on the radar screen. To eliminate the presence of these unwanted echoes (or noise) and keep only the echoes that need monitoring, it is necessary to continually check the sea conditions and adjust the parameters accordingly.
There is also a strong desire for the ability to follow the movement of surrounding ships or to be able to locate a flock of birds chasing fish schools even under poor visibility conditions such as night or fog. It is in response to all of these requests that FURUNO has developed revolutionary technology to eliminate the undesirable echoes in our radars so that our customers can easily see what should be seen.
Echo Average
Reliably display small target echoes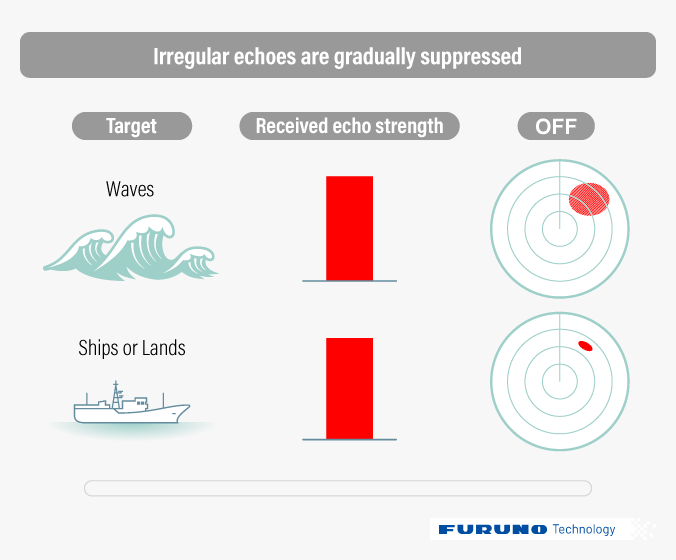 Highlight ships while reducing noise
Signal processing (EAV: Echo Average) is a technology that suppresses unnecessary echoes on the screen by utilizing image correlation techniques and FURUNO's unique determination technology, making it easier to distinguish echoes of other vessels from unwanted echoes.
Gradually reveal the presence of other ships
When EAV is enabled, irregular echoes that appear on the screen, such as the reflection of waves on the sea surface, become thinner and only stable echoes remain with stronger colors.
Pioneering the Radar evolution
EAV technology was first successfully commercialized by FURUNO and was continuously enhanced based on regular feedback from many users. This feedback has been particularly valuable when it comes to radars for fishing vessels as they require various EAV settings for specific sea situations and purposes. For example, it resulted in a new EAV mode for displaying fishing floats* so they can be more easily seen.
* floats attached to the fishing line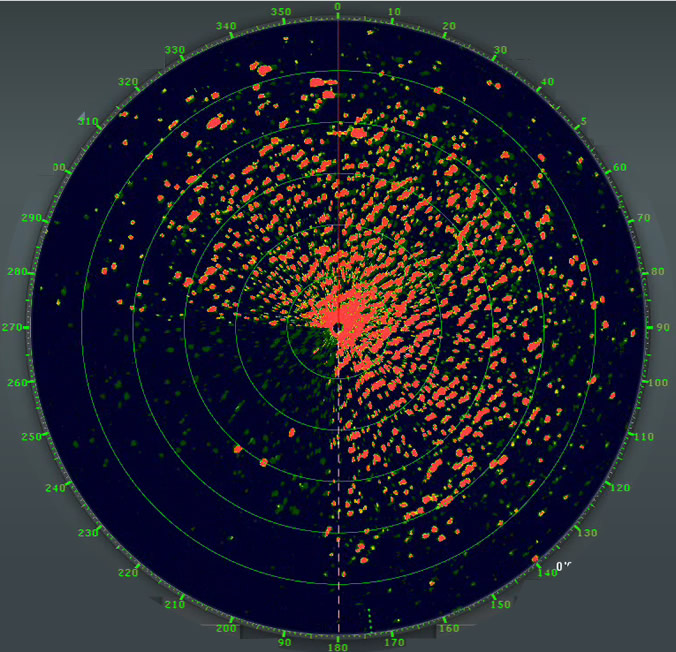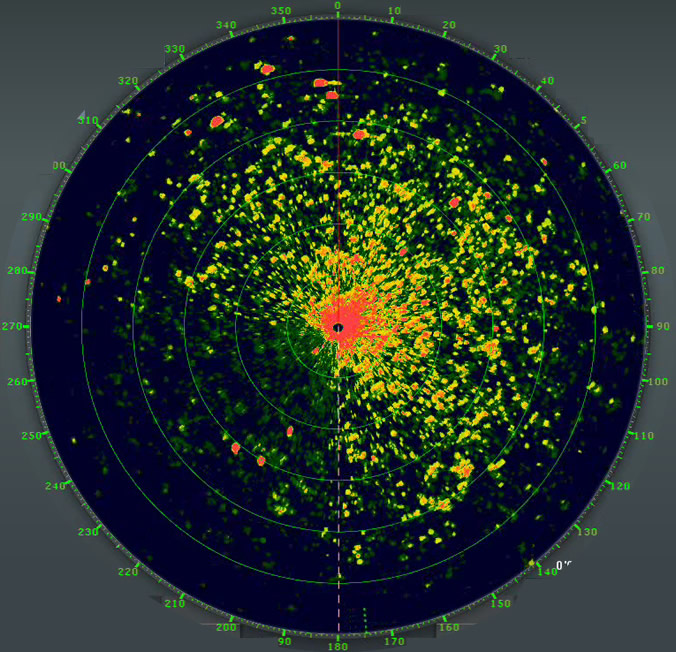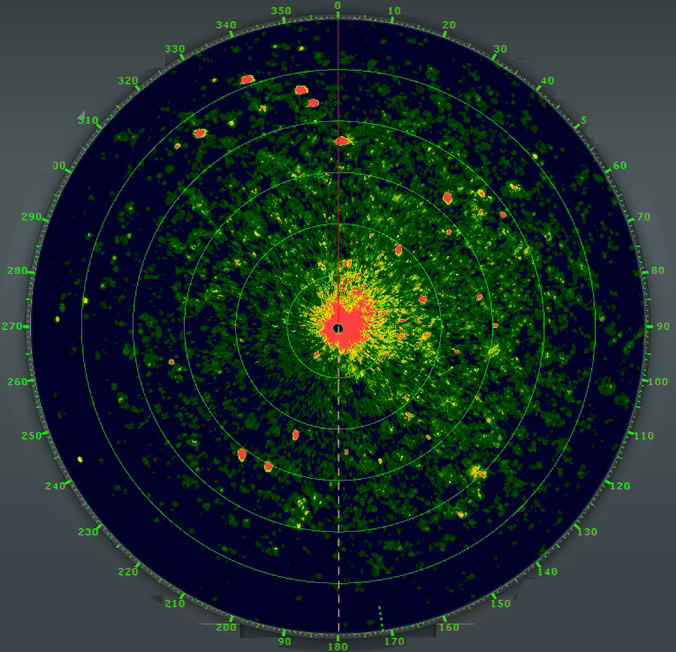 Signal processing technology for echo trend analysis
Reduction of unwanted echoes due to rain, waves and snow while ship echoes are strengthened
Evolution towards ease-of-use, based on know-how acquired over years of experience
Products using these technologies
Automatic Clutter Elimination, ACE
Automatic Image Adjustment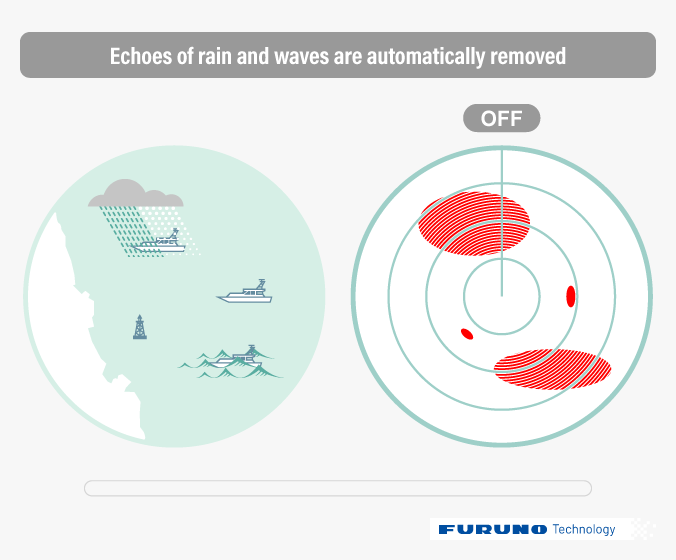 Automatically adjust the radar image with a single button
The Automatic Clutter Elimination function (ACE) is a technology that automatically adjusts and optimizes the radar image in any sea condition utilizing FURUNO's unique and advanced algorithm based on signal processing (EAV).
Suppression of false echoes
When the ACE function is activated, an image adjustment is automatically applied, such as Sea surface Echo Attenuation (SEA) or rain and snow reflection (RAIN) reduction, no matter the sea conditions. Furthermore, it is now possible for the ACE function to suppress false echoes that couldn't easily be erased with other conventional and manual image adjustments. *
Because it is also possible to independently adjust the ACE gain independently from the normal gain, it is even easier for the user to visualize the images.
* The degree of false echo suppression varies depending on the weather/sea conditions and the equipment in use.
Focus on the surroundings
No matter the sea conditions, ACE continuously delivers optimal video settings so the user is freed from continuously adjusting the image while focusing on watching the surroundings.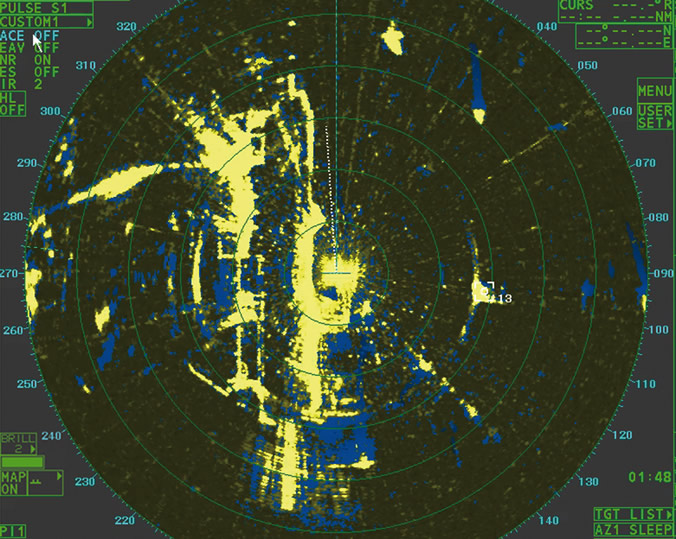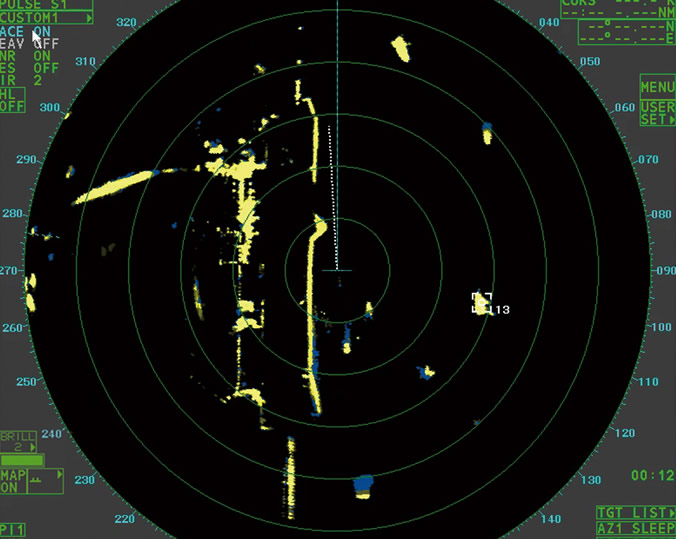 Signal processing to automate image adjustment, such as suppression of Sea surface Echo Reflection (SEA), as well as suppression of rain and snow reflection (RAIN), according to sea conditions
Suppression of false echoes which are hard to remove manually
Less time and less effort adjusting the image, more time watching the surroundings
Products using these technologies
RezBoost™
Identify and separate close targets thanks to FURUNO's unique beam sharpening signal processing technology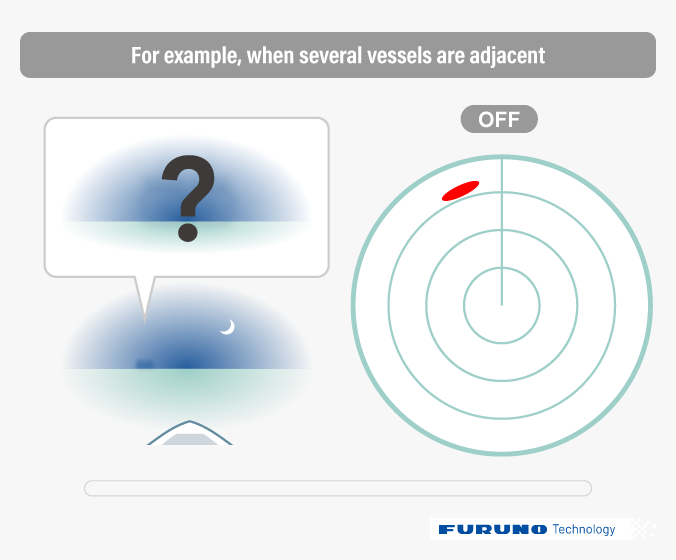 FURUNO's RezBoost™ increases target resolution
RezBoost™ is an advanced technology that significantly increases the resolution of radar targets thanks to advanced signal processing.
When using RezBoost™, the apparent beam width becomes sharper, even if using the same radar sensor, and the resolution improves dramatically.
Even in poor visibility environments, other ships are accurately identified
Quickly grasp the situation by identifying the vessels surrounding own ship, as well as the vessels close to the quayside, even in poor visibility conditions, such as nighttime, thanks to improved heading accuracy. This technology is also instrumental in preventing accidents and any misrecognition by helping to visualize the situation inside and outside the marina.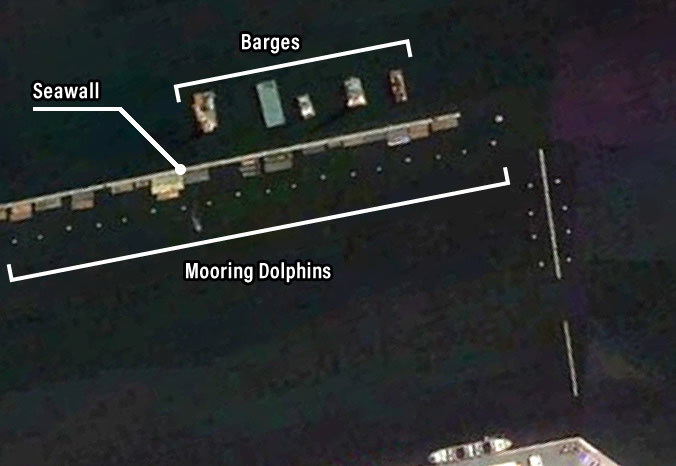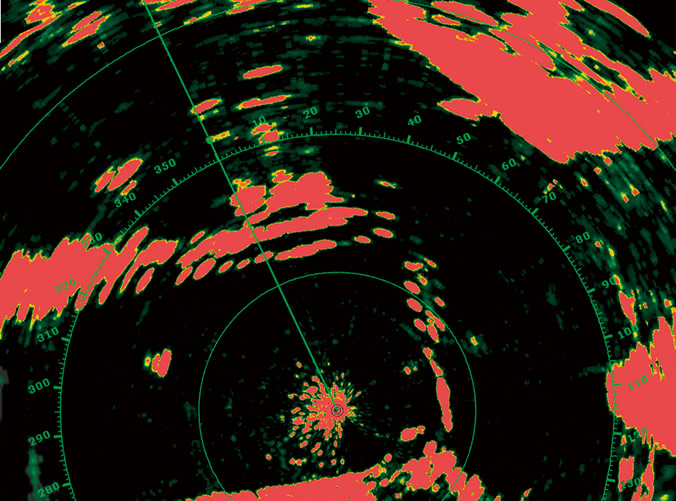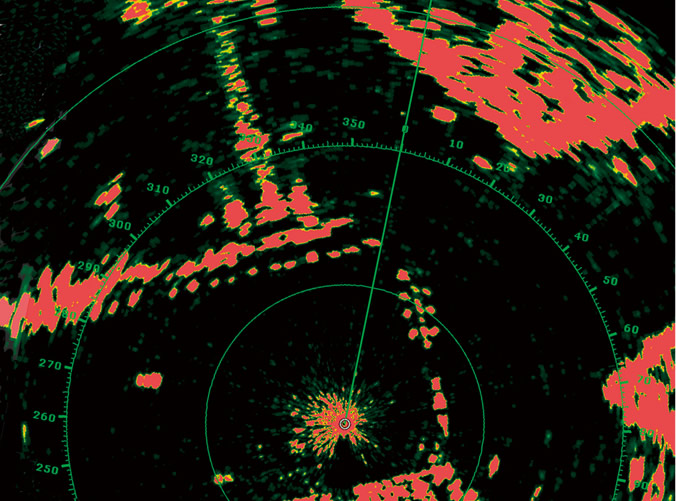 FURUNO's signal processing technology sharpens the apparent beam width and improves azimuth resolution
Aids situation awareness in poor visibility
Helpful when entering a marina
Products using these technologies
Bird Detection Technology/Bird mode
Detect birds moving around a school of fish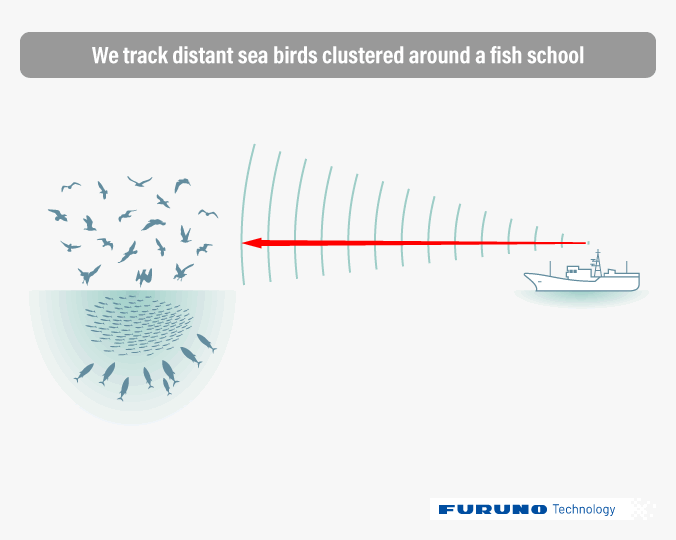 Birds detected by the Radar
It was in 1986 that, for the first time, a Furuno-made tool specialized in seabird detection was specifically designed for professional fishermen. The technology was based on the use of high power radio waves to see up to 20 NM*1 (a distance that even binoculars cannot reach) and on the knowledge that fish can be found under flocks of birds.
Myth: Bird targets are not reflected on Radar
In the past, it was commonly believed and accepted that birds do not appear on the Radar screen. Furuno discovered echoes hinting to the presence of birds while using an S-band radar installed on a merchant ship. This led to Furuno developing S-band Radars for Fishing vessels to aid in locating seabirds. This "Seabird detection" technology, revealing the presence of distant seabirds, is now indispensable and widely used as a tool for fishing both in the commercial and recreational markets.
"Bird Mode", a seabird detection technology for the recreational market
By leveraging the knowledge acquired with the development of products for the fishing market, an automatic gain adjustment optimized for seabird detection, "Bird Mode", was developed and integrated into X-Band Radars for the recreational market.

Recreational X-band Radars are perfect for both short and medium range bird detection*2 and provide new ways for users who enjoy fishing for migratory fish.

Depending on their flying style and their altitude, it is possible to target and track a single bird on the radar screen. Also, by combining this data with the echo trail function, the bird's trajectory can be estimated.
* 1 When the conditions are satisfied with an S-band radar of 60 KW output
* 2 When the conditions are satisfied and with a "Bird mode" compatible radar, birds can be detected up to 4∼6 NM ahead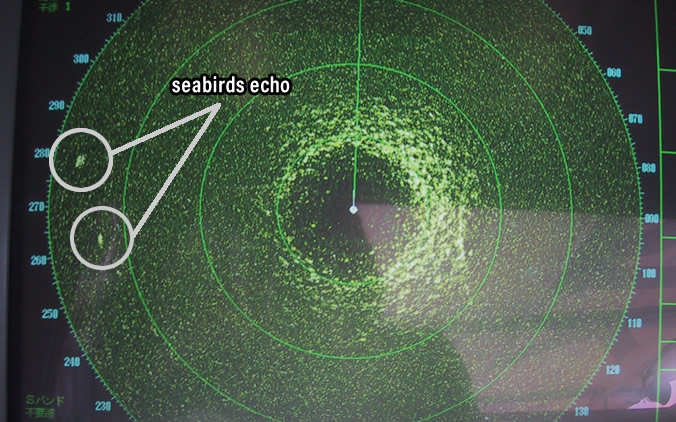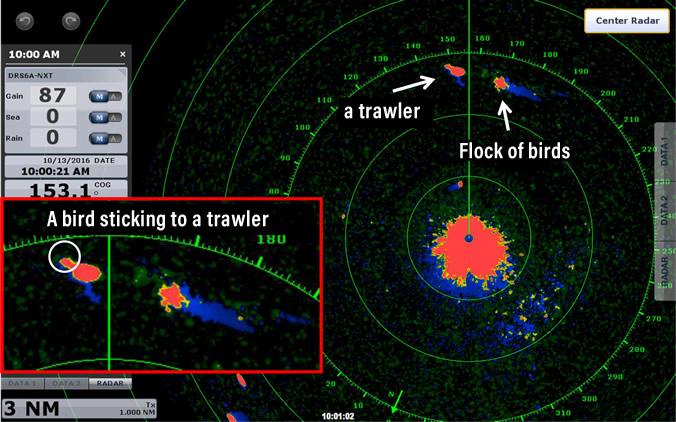 Created the world's first seabird detection technology and made it smaller and lighter
Detection performance of up to 20 NM*1 for spotting and tracking distant birds
"Bird Mode", the seabird detection technology which automatically calculates the best gain to detect seabirds, made available to the recreational market
* 1 When the conditions are satisfied with an S-band radar of 60 KW output
Products using these technologies