Multi-GNSS (Multi-frequency GNSS)
A Multi-GNSS (Global Navigation Satellite System) receiver is the system able to calculate position, velocity and time by receiving the satellite signals broadcasted from multiple navigation satellite systems.
Previously, GPS, operated by the United States, was the representative positioning system, but as shown in the chart below, other satellite navigation systems such as GLONASS of Russia, Galileo of Europe, BeiDou (Compass) of China are now in operation or are about to start operation. Moreover, SBAS (Satellite Based Augmentation System) a network of the geostationary satellite systems (WAAS of United States, EGNOS of Europe, MSAS of Japan) is in operation and Japan has started the operation of QZSS (Quasi-Zenith Satellite System).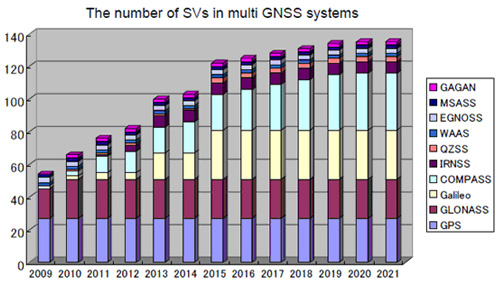 Source: cited from "Asia Oceania is the 'Showcase of the New GNSS Era' ", presented at 5th QZSS user meeting
(KOGURE, Satoshi Mr., 10th March 2010)
FURUNO has been engaged in research and development of GPS receivers for over 20 years and consistently engages in research activities in reception and positioning technology using signals from new navigation satellite systems.
Today FURUNO's research is focusing on modernization of GPS, Galileo and BeiDou. FURUNO also has developed and produced QZSS receivers, dual-frequency SBAS receivers and other satellite navigation based receivers.
JAXA (Japan Aerospace Exploration Agency) is using FURUNO's QZSS receivers for its terrestrial monitor stations for the Quasi-Zenith Satellites System, A testimony given by JAXA to the high reliability of FURUNO's technology in the GNSS field.
In March 2013, FURUNO introduced a new Multi-GNSS Receiver Chip eRideOPUS 7 and Multi-GNSS Receiver Module 87 series which enable to receive concurrently the signals of most navigation satellite systems (GPS, SBAS, QZSSS, GLONASS, Galileo (software update required)). With these GNSS receivers, the number of satellites to be used for positioning has doubled, by receiving simultaneously GPS and GLONASS signals, compared to GPS-only positioning receivers.
In addition, with a software upgrade, eRideOPUS 7 and the 87 series modules can also receive the Galileo satellite signals. Galileo navigation system is scheduled to start operation in late 2014.