FELCOM250 and FELCOM500 are FURUNO's new Inmarsat FleetBroadband terminals, which delivers ship-to-shore/ ship-to-ship broadband communication of up to 432 kbps together with voice communication all at the same time by utilising the latest generation Inmarsat I-4 satellites.
FleetBroadband offers the data communication services with both shared bandwidth (Standard IP of up to 432 kbps) and dedicated data rate (Streaming IP of up to 256 kbps). On top of that, the users can make use of ISDN data service* as well as FAX communication.
FELCOM250 and FELCOM500 will bring cost-effective broadband communication onboard the vessels for a variety of needs, for both operational and social purposes, including calling their friends and family back home while at sea.
* available only for FELCOM500
Solution
With its simultaneous voice and data capability, FELCOM250 and FELCOM500 can support an extensive range of user applications. All tasks can be conducted all at the same time through a single terminal. N.B., Certain network devices must be arranged locally, in order for you to make use of some of the applications.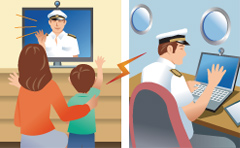 Social communication and increased welfare for crewmembers.
Crewmembers are now able to make private phone calls or send SMS using their SIM card to their friends and families back home. They can also browse the web to read news from home, football results or any other news of their interests.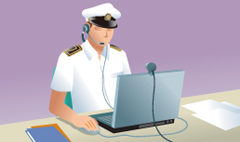 Educational opportunities for crewmembers using distance learning.
Using their off-duty time in a more productive manner has become very popular amongst navigators. VSAT allows crewmembers to attend off-campus distance learning courses through IP applications such as.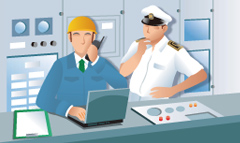 Troubleshooting in case of equipment failure.
In case of failure of engine or other onboard equipment, chief engineers onboard can set up live, on-the-spot remote condition-review and troubleshooting sessions with service engineers from various manufacturers onshore. A reliable high bandwidth connection is essential for enabling these functions, and FleetBroadband provides a perfect solution.