FELCOM250 and FELCOM500 are FURUNO's new Inmarsat FleetBroadband terminals, which delivers ship-to-shore/ ship-to-ship broadband communication of up to 432 kbps together with voice communication all at the same time by utilising the latest generation Inmarsat I-4 satellites.
FleetBroadband offers the data communication services with both shared bandwidth (Standard IP of up to 432 kbps) and dedicated data rate (Streaming IP of up to 256 kbps). On top of that, the users can make use of ISDN data service* as well as FAX communication.
FELCOM250 and FELCOM500 will bring cost-effective broadband communication onboard the vessels for a variety of needs, for both operational and social purposes, including calling their friends and family back home while at sea.
* available only for FELCOM500
Features
Features of FELCOM250/FELCOM500
A wide variety of maritime broadband communication services available.
Simultaneous access to voice and high-speed data communications.
Global coverage provided through three Inmarsat-4 satellites.(except for polar regions)
IP handset and IP-PBX incorporated.
Multiple IP handsets can be incorporated into the network by using the switching hub.
Wireless IP phones can be utilized.(wireless LAN access points required)
No dedicated software required for configuration setup.(web server function incorporated)
Simplified installation through a compact antenna unit with a diameter of around 60 cm, weighing around 20kg.(FELCOM500)
Communication Unit supporting all major communication systems carrying ports to facilitate plug-and-play system integration.
Built-in NAT router facilitates smooth network integration to the Internet.
Incoming indicators available.(optional supply)
FB-2000 Communication Unit

RS-232C 9pin D-Sub female connector for ISDN UDI/RDI.
NMEA in/out Phoenix 5pin (NMEA 0183 Ver.2) for navigation equipment.
Alarm output Phoenix 3pin for alarm equipment.
For power supply.
For Antenna Unit.(Antenna cable length selectable 30m or 50m)
LAN RJ45 ports for IP handsets, PC/network equipment, telephone hub.
Telephone RJ11 for telephones and facsimile.
Telephone Phoenix 4pin for telephones and facsimile.
USIM card slot.
Overview
System Overview of FleetBroadband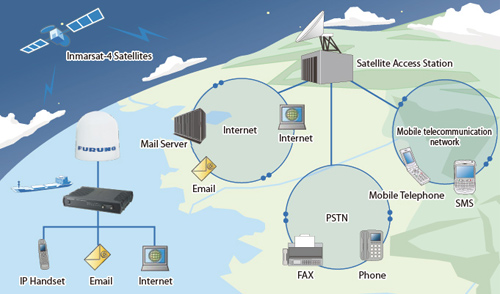 FleetBroadband coverage
I4 satellite F1 PAC-W 143.5E: Covering Oceania, Western Pacific and South and East Asia.
I4 satellite F2 IND-W 25E: Covering Western Asia, Africa and Eastern Atlantic.
I4 satellite F3 PAC-E 98W: Covering Western Atlantic, Eastern Pacific and Americas.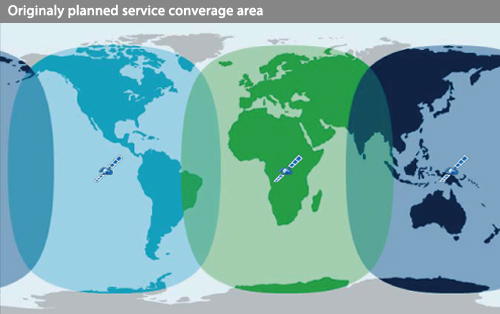 Features of Inmarsat FleetBroadband service applications.
Selectable data rates for data communications according to needs:
| Standard IP | Streaming IP |
| --- | --- |
| Service providing best effort delivery of 432 kbps.(FELCOM500, 284 kbps for FELCOM250) (connected through shared connection pipe: less traffic—higher throughput, and more traffic—lower throughput) | Guaranteed streaming data rates on demand, rates selectable from 8, 16, 32, 64, 128 or 256 kbps. (no contention amongst those who are connected in the same network—guaranteed throughput at all times) |
| Suitable for typical office applications such as e-mail, web browsing, FTP, VPN, etc. | Suitable for bandwidth-hungry large data transfer, i.e., real-time streaming video and audio, Voice over IP, etc. |
| Data service charged for data sent and received. | Service charged for the duration of the connection to the network. |
| - | These dedicated streaming channels can run independently while the standard IP service is running in the background, meaning that a host of applications can be running simultaneously. |
Crystal clear voice telephony
4 kbps cost-effective, landline quality speech available.
Supports one circuit switched service at any one time.
Simultaneous use together with data communications.
High stability in communication links achieves constant network availability even under harsh environmental conditions.
Supports additional core voice and ISDN data capabilities for integration with legacy applications.
ISDN compatibility available on FELCOM500.
SMS (up to 160 characters) and voice mail.
FELCOM250
FELCOM500
FELCOM70
Data Communication
Standard IP
(Best effort delivery)
Up to 284 kbps
Up to 432 kbps
MPDS up to 64 kbps
Streaming IP
(Guaranteed data rate)
8, 16, 32, 64, 128 kbps
8, 16, 32, 64, 128, 256 kbps
N/A
ISDN
N/A
64/56 kbps
64/56 kbps
Voice
4 kbps AMBE+2/3.1 kHz audio
Simultaneously usable with packet data and IP services
4.8 kbps AMBE/3.1 kHz audio
NOT simultaneously usable with data service
FAX
Group 3 FAX via 3.1 kHz audio
9.6 kbps (Group 3),
64 kbps (Group 4)
SMS
Standard 3G (up to 160 characters)
N/A
Solution
With its simultaneous voice and data capability, FELCOM250 and FELCOM500 can support an extensive range of user applications. All tasks can be conducted all at the same time through a single terminal. N.B., Certain network devices must be arranged locally, in order for you to make use of some of the applications.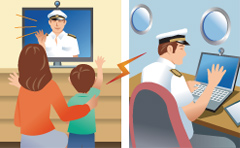 Social communication and increased welfare for crewmembers.
Crewmembers are now able to make private phone calls or send SMS using their SIM card to their friends and families back home. They can also browse the web to read news from home, football results or any other news of their interests.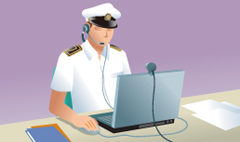 Educational opportunities for crewmembers using distance learning.
Using their off-duty time in a more productive manner has become very popular amongst navigators. VSAT allows crewmembers to attend off-campus distance learning courses through IP applications such as.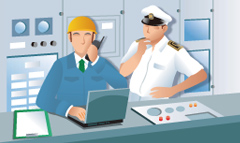 Troubleshooting in case of equipment failure.
In case of failure of engine or other onboard equipment, chief engineers onboard can set up live, on-the-spot remote condition-review and troubleshooting sessions with service engineers from various manufacturers onshore. A reliable high bandwidth connection is essential for enabling these functions, and FleetBroadband provides a perfect solution.
FAQ
Product Specifications
How many IP handsets/analog telephones/FAX can be incorporated into the network?

Up to 10 IP handsets and up to four analog telephones/FAX can be networked.
*networked through PoE HUB

Is it possible to make use of conventional analog telephones with FELCOM500/FELCOM250?

Yes.
There are two RJ11 ports and two Phoenix 4 pin ports for telephones and FAX in the Communication Unit.

Is parallel connection of multiple analog telephones a possibility?

Yes.
Up to two analog telephones are connectable through each port.

Is it possible to have multiple telephone numbers?

No.
Only one telephone number can be allocated for each of 4 kbps AMBE+2, 3.1 kHz Audio, ISDN UDI and ISDN RDI services. Unlike Inmarsat Fleet service, more than one telephone numbers cannot be allocated for any one service.

How many Incoming Indicators can be incorporated into the network?

Yes.
Up to ten units can be networked.

Is it possible to use different ringtones for each room?

No.
Different ringtone intervals can be used for each of the voice and fax applications. However, different ringtone setting cannot be assigned for each of the connected Incoming Indicators within the network.

How many LAN ports does the Communication Unit have?

Four LAN ports are incorporated into the Communication Unit, all of which are PoE (Power over Ethernet) types.

Is it possible to install two FleetBroadband antenna units in order to enjoy better reception?

Does FURUNO provide HUB/PoE HUB?

Yes, FURUNO supplys HUB/PoE HUB.
Please consult with the local FURUNO distributors for details.

What is PoE HUB?

It is a HUB that is capable of supplying electricity.PoE HUB can be classified into two types: Type A and B.Type A hub utilizes data wires, 1st, 2nd, 3rd and 6th pins, to transfer electrocity together with data, while Type B hub utilizes idle wires: 4th, 5th, 7th and 8th pins, to supply electricity. Both types can be used for the FB handset, however, please be aware that the only Type B can be utilized for the Incoming Indicator.

Can we make use of the ChartCo broadcasting service as well as other DGPS service with FleetBroadband?

Inmarsat I4 satellites do not deliver DGPS service, and thus it is advised that you make use of email data delivery service that ChartCo provides.

Is input of Gyro/GPS signals necessary?

Heading signal input from an external sensor is not necessary.
A GPS receiver is incorporated into the antenna unit, so it is not technically necessary to feed GPS signals, but it is reccomended to have GPS signal input from external GPS as a backup.

Is it possible to make use of telephone service and FAX service at the same time?

No, it is not possible to use telephone and FAX at the same time. It is possible to make use of Circuit Switching service (telephone, FAX, ISDN) and packet data service (Standard-IP and Streaming-IP) at the same time.

Is it possible to make use of Standard-IP and Streaming-IP services at the same time?

Yes, it is possible to do so. However, please note that the total bandwidth utilised at one time cannot exceed the upper limit of Standard-IP service. For instance, if you wish to make use of 256 kbps Streaming-IP service and Standard-IP service at the same time, the bandwidth allocated for Standard-IP connection is up to 176 kbps (432 kbps-256 kbps=176 kbps).
Satellite Infrastructure & Service to be Provided
From when does FleetBroadband start global service?

From the 25th of February 2009, FleetBroadband commenced the service with global coverage with three operating satellites.

Where are the Land Earth Stations located?

In FleetBroadband, Land Earth Station is termed as SAS (Satellite Access Station). One is located in Burum in the Netherlands that handles network assignment for those under the EMEA satellite (25E) that covers the EU, the Middle East and Africa. The other two SASs are located in Hawaii that handle network assignment for those under Asia-Pacific Satellite (143.5E) that covers Asia-pacific area and American Satellite (98W) that covers Americas and Hawaii.

What is the difference between FB500 and FB250?

FB250's communication data rate is more moderate than that of FB500: with maximum capability being 284kbps and 128kbps for Standard IP and Streaming IP service, respectfully. Its service coverage of is also narrower than FB500. Also, in order to make use of FAX with FB250, minimum elevation angle of 20 degrees toward satellite is necessary. Moreover, FB250 does not provide 56k/64kbps ISDN services.
Installation of the FleetBroadbandTerminal
Is it possible to utilize the existing cables from existing equipment when replacing with FleetBroadband terminal? And what about the fixing holes for the antenna unit?

Yes, it is possible to make use of them.
This is because the antenna cables and antenna fixing holes of FELCOM500 are identical to those of Inmarsat B and Inmarsat Fleet 77 terminals.

Can marine electric cables be used instead of LAN cables?

No, marine electric cables cannot be used instead of LAN cables.
We assure the operation performance with LAN cables including LAN connector (RJ-45 jack).

How can a PC be connected into the FleetBroadband terminal?

A PC can be directly connected through LAN port to the FB network.
Since Communication Unit incorporates Auto MDI/MDI-X functions, both cross/straight cables can be used to network a PC.

To where the Terminal Adaptor for ISDN applications can be connected?

Terminal Adaptor is not required for FleetBroadband.
There is no ISDN S/T port, and a PC can be connected through a serial port.

Is it necessary to assign IP addresses to each handset and PC connected?

Yes, it is necessary to assign IP addresses to each IP handset and PC connected.
Since the Communication Unit has a DHCP function, IP addresses can be automatically assigned by checking the dedicated check boxes in the network configuration setting.
Communication Rate & Applications to be Utilized
Approximately how much is the communication cost?

Communication cost for voice applications is almost half and for data applications, it is almost one-third, compared with Fleet service.
As for ISDN service, the communication cost is same as Fleet service.

Is the communication cost charged at a metered rate?

Yes, for Standard-IP service, the communication cost depends upon the amount of the data sent and received.
As for the communication cost for the Streaming-IP service, the communication cost depends upon the duration of time connected to the network.

Is there any discount scheme available?

It depends upon the service provider, but normally, the longer the contract term is, the cheaper the overall cost for communication charge would be.

Is it possible to make use of the mailer software that comes with Windows, i.e., Outlook Express?

It is possible.
However, we recommend AmosConnect that has automatic message compression,automatic mid-message recovery functions. More importantly, the basic package is free of charge.

Is dedicated service possible?

Each Distribution Partner has different added-value services, and thus please consult with DP for further details. For instance, both Stratos and KDDI offer the service plan for dedicated bandwidth.
SIM Cards, Airtime
©2014 FURUNO ELECTRIC CO.,LTD. All Rights Reserved.