FURUNO Service Provision Scheme for the Clients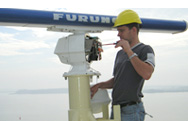 FURUNO has a three-tier service provision scheme, which consists of
FURUNO delivers service and technical support to the clients through the combination of these four elements.
FURUNO Worldwide Service Network, with four service centers around the world, covers service enquiries from any part of the world. Subsequently, all the service requests are to be handled using SMS, and the service work coordination is to be arranged to make sure that the service work is delivered in time. Finally, the actual service work is to be conducted by FURUNO authorized service engineers with genuine Furuno spare parts and/or FASK.
FURUNO Worldwide Service Network
FURUNO's Worldwide Service Network provides spare parts and professional technical support/service to our clients around the world. The Service Network is led by four continental service centers in Japan, Germany, the U.S., and Singapore together with authorized service agents in more than 40 countries.
These service centers and agents are in charge of coordination and arrangement of service and technical support for FURUNO equipment onboard vessels at main ports around the world through exchange of information amongst them. This global service framework, together with FURUNO SMS and FASK, enables us to provide a rapid response to demands of our clients, hence delivering service to ships in the next port of call.
» FURUNO Deepsea Service Agent List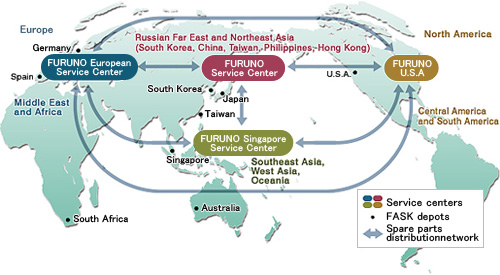 FURUNO SMS (Service Management System)
FURUNO is setting the service/technical support framework in order to streamline its whole process. FURUNO SMS is a web-based application by which every step involved in service provision to our clients can be organized electronically through online application and management forms. All the service agents of FURUNO can look into the service work progress so that they can keep track of their clients' situation. FURUNO SMS covers from submission of service request from the clients through implementation of the service work and its documentation so that every step in the whole procedure can be performed systematically.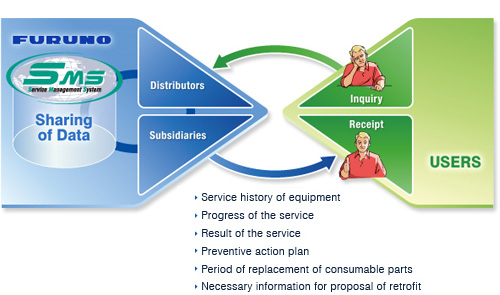 Worldwide Spare Parts Availability
In order to facilitate much faster and more efficient service provision around the world, FURUNO has placed the sets of all the necessary spare parts for all the merchant marine equipment range: FASK (Fly Away Spare Part Kit) at its spare part depots/service centers at 11 locations worldwide (Japan, South Korea, Taiwan, Hong Kong Singapore, Australia, Spain, the UAE, South Africa and the US). Together with the dispatch of trained and qualified technicians, FASK will be shipped from the nearest spare part depot/service center available upon any service requests.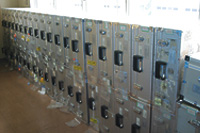 FASK stand-by at the FURUNO Service Center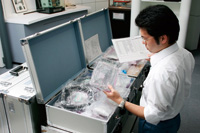 Service staff regularly verifies that FASK are ready to go on demand (whether it contains the latest software as well as all the necessary spare parts).
Technical training course for engineers/technicians
In order for us to provide our customers with after sales service and support, FURUNO, in addition to the extensive service provision scheme in place, regularly provides technical training courses for the engineers and technicians. These technical courses are held with the goal of enabling service engineers to provide all technical services swiftly and accurately based on thorough understanding and knowledge about FURUNO products. The courses are held annually for services engineers of FURUNO agents around the world.