We, FURUNO ELECTRIC CO., LTD., strongly feel that it is our ultimate mission to deliver peace of mind to our clients all around the world. In order for us to minimize the risk of ships strangled in the midst of their voyage due to equipment failure, we conduct thorough product testing before our equipment is installed, hence preventing faulty equipment from being delivered to our clients. On top of that, we also conduct thoroughgoing inspection, before ships' delivery, on whether the equipment is properly installed. Through this process, the possibility of any equipment trouble arising from improper installation can be greatly reduced. These our two-tiered preventative approach together with after-sales service provision scheme work in conjunction to provide our clients with higher level of safety and efficiency in ships operation.
Solid Product Quality Control Scheme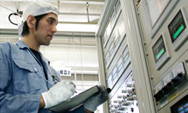 We have set product quality standards, which are much stricter in terms of provisions than prevailing industrial standards. In order to maintain product quality standard above our-set level, we conduct thorough temperature/humidity testing using a thermostatic chamber, vibration, EMC, waterproof and acoustic testing and others according to our standards.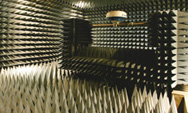 Also, in order to conduct thorough product testing at a facility that we can rely on, we established our own testing facility, Labotech. Based upon ISO/IEC 17025, Labotech has been certified by internationally recognized testing and certification agencies and governmental organizations that include TÜV Rheinland Japan, Telefication (the Netherlands) and BSH (Germany). By conducting strict product testing at the facility, we are able to deliver high quality navigation and communication equipment that fully complies with international standards set by IMO, IEC and other international organisations as well as to deliver equipment package that are in accordance with various class bridge notations, set by NK, LR, BV, DNV, ABS and other classification societies.
Prevention of Equipment Failure through Inspection on Installation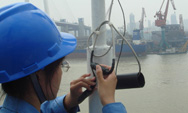 Even the equipment is perfectly in accordance with international quality standards, it is required to properly installed onboard the ship in order to ensure its full performance under harsh environmental conditions. Therefore, we feel it as of absolute necessity to conduct comprehensive inspection on equipment installation through close technical cooperation between FURUNO and its subsidiaries/national distributors.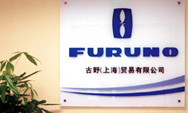 FURUNO SHANGHAI CO., LTD.
In the Chinese shipbuilding industry, which has seen significant and sustainable growth over the past decade, we have decided to set the system in place to ensure proper installation of our products on a number of ships built in China, which has been and will be increasing every year.
Thus, in summer 2007, we have established FURUNO SHANGHAI CO., LTD. to provide customers in China with OAT (Outfitting Acceptance Test), CAT (Commissioning Acceptance Test), TTC (Technical Training Course) and OBT (On Board Training Course) services. This, we believe, will lead to our ability to provide proper installation (Outfitting), proper setting and adjustment (Commissioning), proper services (Engineering) and proper use of the equipment (Operation).