FURUNO ECDIS FEA-2107 and FEA-2807 are designed to comply with the latest standards and regulations set by IMO, IHO, and IEC. The FEA-2107 and the FEA-2807 can utilize ENC (S57 Edition 3), ARCS RASTER CHARTS and C-Map CM93 Edition 3, C-Map CM-ENC to deliver global chart coverage.
Utilizing state-of-the-art technology, the FEA-2107/2807 delivers a vast array of advantages to the operators from high-speed, stress-free data processing of chart and navigation data including ARPA and AIS to sophisticated alarm signalling. When planning the voyage route, the quick route profile calculation and voyage optimization are conducted. The FEA-2107/2807, in combination with autopilot, performs TCS (Track Control System), allowing automatic steering in a variety of situations ranging from sailing through narrow straits to transoceanic voyage. Huge amount of navigation data, actions taken and performance of the whole system can be continuously monitored during the course of voyage.

Chart
Compatible with ENC (S57 Edition 3) charts, ARCS charts, and C-MAP CM93 edition 3 and C-MAP CM-ENC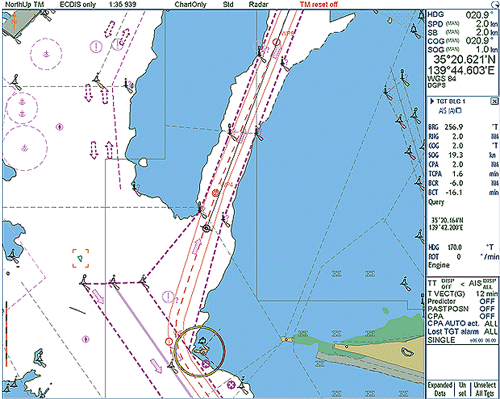 Radar/Navigation Data Overlay
The electronic chart can be overlaid with a variety of navigation data such as radar echo images, ship's position, heading, speed and others to facilitate safe and efficient vessel operation.
Radar Overlay
Radar echo image overlay is available in the FEA-2107/2807. This function gives the exact match in scale and presentation of the chart and radar echo image. This greatly helps the operators' observation and their accuracy.
Radar overlay dialog box
Operators can have controls over adjustment of the radar image: gain, sea/rain clutter, radar echo trail setting, interference rejector, echo stretch and noise rejector controls.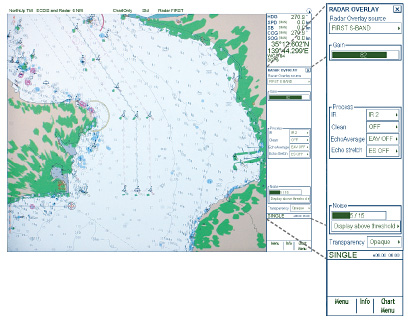 Network Interface
Wide Network/Interface Option Delivers Flexible System Construction
Flexible expandability allows the ECDIS to be networked with ARPA Radar, positioning equipment, autopilot and others to consolidate the navigation system. The 100 Base-TX Ethernet is utilized to link the FEA-2107/2807 with up to four sets of FURUNO ARPA Radar FAR-21x7/28x7 series. This link gives high-speed and stable navigation data sharing within the network and gives option in building up a variety of navigation system from a single station through complete Integrated Navigation System (INS).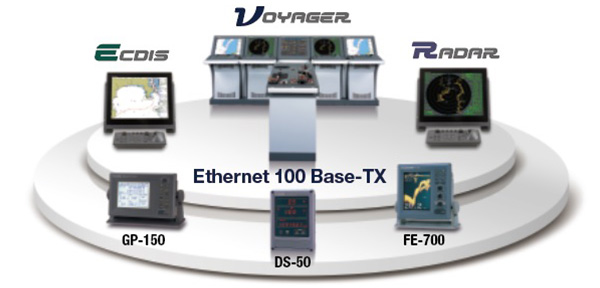 Track Control System
VOYAGER features Track Control System through combination of ECDIS and autopilot. This Track Control System enables the vessel to keep on the plotted route automatically with minimum participation of a navigator. This has been achieved with help of flexible steering control together with route-planning on ECDIS in minute details. Moreover, area data for possible danger as well as important warning for navigation can be registered in the system. Important information can be displayed before the vessel reaches certain areas.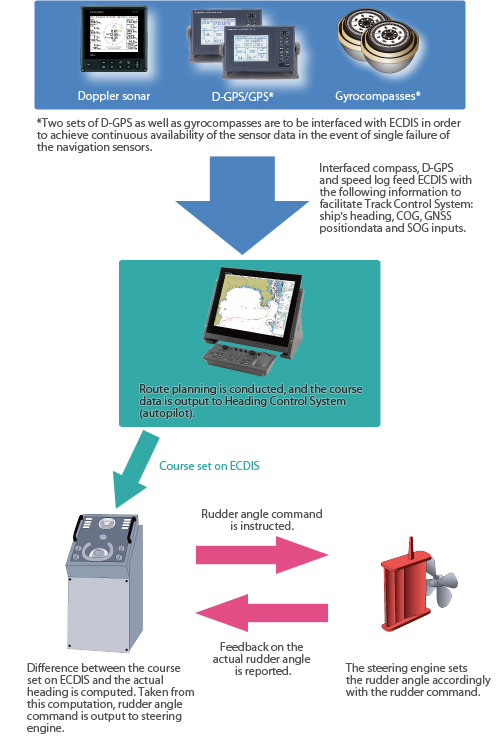 Route Planning/Monitoring
Comprehensive Route Planning and Route Planning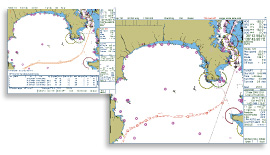 The operators can plan and determine the route of the ship through studying the comprehensive chart data presented on the ECDIS screen. A route can be altered in minute detail, and the changed route can be saved for later use.
Data Display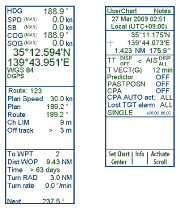 Navigation information including own ship and other ships can be presented in the data cell. When the cursor is placed upon any mark on the chart screen, the information about the objects such as buoys, lighthouses, sunken ships, etc., will also be shown in the data cell.
AIS Display
When connected to AIS, the FEA-2107/2807 can store the information about up to 1,000 AIS targets in its storage buffer and displays up to 200 AIS targets within the operator-set range on a display. This helps operators enhance their situational awareness around own ship.





Anti-grounding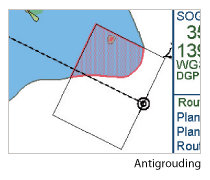 This function notifies the operator of shallow water and other sea conditions that may lead ship to go aground. The information about the sea areas is acquired from the electronic chart and ship's draft data is preset in own ship information so that possible strand can be avoided.
Operation
Operation through Ergonomically-designed Control Unit
The control head has logically arranged operation Scheme through a combination of push keys and a trackball. Well-organized menus ensure that all operations can be performed with a trackball.
Full-keyboard control head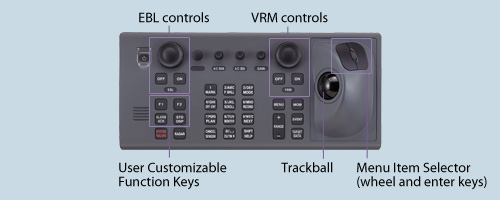 Trackball control head

Alternative to the Full-keyboard type or additional control head to be placed close to captain chair for remote operation.
Enhanced position reliability for voyage monitoring
Today electronic navigation equipment plays more and more significant role in navigation tasks on the bridge. Even though the electronic means of navigation generally reduces the workload, it does create extra tasks for the navigators – they have to verify and validate the navigation data provided by the navigation systems, and they have to operate the vessels by using the very same data. To this end, FURUNO has created a software solution that assists the navigators in the data validation process.
Rather than depending on input from position sensors only, FURUNO ECDIS applies a multi-tiered filter for validating and utilizing the received information from multiple onboard navigation sensors to generate more reliable own ship position over electronic chart. This greatly enhances the situation awareness even in the event of sensor malfunction, hence contributing to safety in ship operation.