Articles for ITS market
Reporting directly from the 2016 CES show
"Data services will soon become the main revenue source of automotive industry"
VR(virtual reality) and Drone technologies are the driving force behind the CES show.

"The work for everyone begins at CES show every year"

People in the Electronics industry, telecommunications industry and recently even people in the automotive industry confirm. The Consumer Electronics Show (CES) is the biggest exhibition for hardware and software. It is held in Las Vegas, Nevada, USA at the beginning of January every year. Last year one hundred and fifty thousand people from about one hundred and fifty countries visited CES show during the four day event.
Personally, my work also begins at the CES show. After CES I cover the North America International Auto Show in Detroit. This has been my routine for the past few years.

The center piece this year is no doubt the VR (virtual reality). Oculus, a start-up company from Los Angeles which is affiliated with Facebook unveiled the new model of head mounted display products. In addition, speaking of the head mounted display type products, Samsung Electronics has already started mass production in late 2015 of the product which integrates the smartphone into the head mounted display. Many companies also introduced software related products for the Samsung head mounted VR system.
However, the VR synchronized driving simulator was somewhat less than I imagined. It may be because many companies are concentrating on Oculus software development for Microsoft's "Xbox One".

Drones have quickly been gaining popularity in the US and they continue to receive abundant attention in 2016 much like 2015. The largest company in the drone industry, DJI, a Chinese company, aggressively promoted their excellent consumer product "Phantom 3" along with a larger business type drone product.
In addition to this the flying demonstration by Parrot, a French company was very popular. Parrot's booth was like a "theater" which played flying demonstrations of the Bebop2 which was released in the second half of 2015. It is very normal for drone companies to have an area, covered by a net showing flying demonstrations to the audience. Generally, the demonstration only has one, two or three drones at most simultaneously for safety considerations. However, what Parrot showed this time was extraordinary and very high level flying capabilities, different from other companies. For example they flew more than ten drones simultaneously. These drones moved in a formation, sequenced to music, it looked like a dance. Also these ten drones showed very acrobatic flying including spinning 360-degree simultaneously.
The Bebop Drone series are using FURUNO's GNSS (Global Navigation Satellite System) receivers for some of their drone applications.
Furthermore, Bebop series products use a very high grade controller. This is why a pilot can fly the drone by the image sent from the operational drone using the VR-supported head mounted display.
Is autonomous driving being delayed? 

The automotive manufacturers had been promoted autonomous driving at their booths in previous CES shows after Google (now called ALPHABET) started demonstration testing of autonomous driving in Nevada in 2013. Last year Audi demonstrated their autonomous car project driving without a driver from Silicon Valley to Las Vegas with an American journalist in the car. Mercedes displayed their test-use autonomous car which they developed in their Silicon Valley's research center. Also in 2014 Toyota displayed their test-use Lexus autonomous car which has actually been driving in Japan to introduce their advanced safety driving technologies including the autonomous driving system.
However this year there are some small changes. The exhibitions regarding the autonomous driving systems were showed by automotive parts manufacturers like Bosch, Valeo and Delphi. Meanwhile the automotive manufacturers exhibited a "different trend" which is their "data service" business model.

What are "data services"?
Ford stressed it as "From cars to mobility". Mobility means "Total transportation method" including public transportation. The automotive industry has a plan which not only includes current business models, but also car sharing and other new transportation methods including fleet business. Furthermore, what surprised me was the automotive industry is reviewing the use of drone data management services for disaster area study.

Meanwhile GM cooperates with Mobileye, an Israel image recognition development company which uses a cloud service. This service will use GM's "Onstar", in-vehicle data service system and provides driving information and driving history to drivers using" Onstar" in the vehicle.
Toyota is also looking ahead to this trend and have established TRI (Toyota Research Institute, Inc.). TRI is their professional organization to research data services like Artificial Intelligence, Deep Learning and Big Data analysis, etc. TOYOTA announced the outline of TRI in Tokyo on November, 2015 and also this years CES show. The executives of TRI got together and directly answered questions from the media. TRI is operated by about a total of two hundred people at two different locations. One is near Stanford University, California on west coast and the other is near MIT (Massachusetts Institute of Technology), Massachusetts on the east coast. Toyota will invest about 10 billion US dollars capital within five years.
The competition for de facto standards regarding data services, including automotive is heating up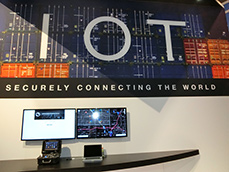 BlackBerry, a large Canadian company has an in-vehicle OS,QNX product and was also promoting IoT in their booth.
The main products of the CES show used to be televisions, personal computers and appliances but the show has completely changed, focusing more on the IT industries. Popularization of the internet has overtaken appliance exhibits which continue to decrease as smartphones, cloud services and similar technologies take over exhibit space. Currently the main exhibitions are IoT (Internet of Things) including vehicle, home, life style and other societal market segments.
Because automotive is now included in IoT, it is important for the automotive industry to shift into the new business model.
Regarding the "overall view" of the new automotive business, economists and consultants are showing concern. It is now very obvious the competition for a de facto standard regarding data services for the automotive industry has already started on a full-scale. The automotive industry is just about to change.