Articles for ITS market
Android Automotive pays attention to V2X - Report from the Frankfurt Motor Show 2019 in Germany -
Social change impact felt at the Frankfurt Motor Show 2019 in Germany

Japanese car manufacturers other than Honda, GM and FCA (Fiat Chrysler Automotive) have withdrawn. The Frankfurt Motor Show 2019 (IAA 2019) has reached a major milestone.
The relationship between "people and cars" and "cars and society" has changed significantly due to new businesses such as the sharing economy, new technologies such as automated driving and connected cars. Such social changes continue to have a major impact on the world's leading motor shows.
What is happening now in Germany, a developed country in the automotive industry? They introduced a new project that I noticed in the venue.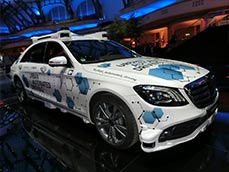 Daimler exhibits an automated driving test vehicle jointly developed with Bosch as the number of exhibits related to automated driving decreases.
The calming of the automated driving boom

Exhibits related to automated driving have become inconspicuous.
The reason is because it is difficult to mass-produce level 3 or higher automated driving at the consumer vehicle level.
Major German parts manufacturers such as Bosch and Continental are currently planning for mass production at level 2 advanced or level 3 with limited capabilities such as or lower operating speed.
In automated driving there are 6 automated driving levels which are levels 0 to 5. Level 0 refers to manual driving. For levels 1 and 2 the automated driving assiststhe driver, who provides all advanced driving. At level 3 or higher the driving is controlled by the automated car system. However at level 3 if the automated system determines it cannot continue driving, it returns to manual mode and driver control.

Between level 2 and 3 where the driving control shifts from people to vehicles there is a "wall for social implementation (mass production)". Vehicle manufacturers have realized that the walls are extremely large as they continue with public road automated driving tests.
On the other hand, in the area of service vehicles (public transportation), social experiments at level 4 and above will proceed. However here too there are walls. There is a big difference in the acceptance system of local governments by region. For example, not only regulations on automated driving but also on car sharing (ride sharing). Volkswagen officials confirm this situation, "Even in the EU, there is no unified view even in Germany. Currently it is not resolved."

Under such circumstances, both the personal car and service car development has slowed down the pace of automated driving mass production, which had previously been in rapid expansion.
Data platform in service area

With the development of automated driving and electrification a common platform for car manufacturers has become important for vehicle data and customer data. Two competing formats are introduced from this perspective.
Android Automotive (Embedded System)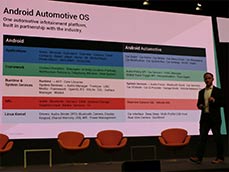 Google explains the current status of Android Automotive
The presence of Android is increasing in the Embedded System.
According to Google (parent company: Alphabet Inc.), the Embedded System that the company calls Android Automotive has a 45% share. The car manufacturers that are using it are limited to Honda, Nissan, Mitsubishi, BMW, Fiat, etc. However major auto parts manufactures such as Bosch and Denso are listed in various countries.
Going back a bit, Google was first involved in the automotive industry in 2005 jointly developing and providing software using Google Maps with some auto parts manufacturers. After that in 2010 Google Maps' API (Application Programming Interface) was released to the in-vehicle device for open source car navigation. In 2015 Android Auto entered the automotive industry through its own route. In addition, they made technical rules that connected the mobile Android phone and the in-vehicle device. This was response to Apple's "iOS in the car (later called Apple CarPlay)".
In 2020 the Embedded System "Android Automotive", has become major in the industry and will be in full swing. At the time of the Android Auto announcement in 2015 they confirmed a full-scale entry into the in-vehicle OS and have already collaborated with automobile related companies as mentioned above. At present Android Automotive is mainly in infotainment areas such as car navigation, video distribution, and SNS. Infotainment incorporates the fusion of information and entertainment.
In the future there is a possibility of expanding the range of Android Automotive activities in areas related to vehicle motion performance or service areas such as ride sharing. This is in cooperation with Waymo, an automated driving development company under Android.
System fusion in V2X targeted by Continental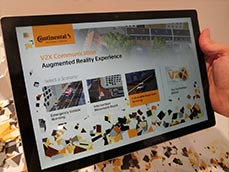 Explanation screen about "Hybrid V2X" that Continental aims for mass production in 2 to 3 years
Continental is trying to embody a new concept of V2X that adds "Vehicle and infrastructure communication (road-to-vehicle communication: V2I)" to "vehicle-to-vehicle communication (V2V)".
Here, according to the company's explanation, V2X currently has two systems in the world.
One is the DSRC (Dedicated Short Range Communication) widely used in Europe, America and Japan. In Japan it is used for ETC (Electric Toll Collection System). DSRC uses different frequency bands depending on the country and region, such as 5.8 GHz, 5.9 GHz and 700 MHz bands.
The other is a cellular TCS (Telematics Control System) using a telephone line. This is in much demand throughout China.
A system that combines these two methods into one platform is called "Hybrid V2X" from Continental.
In demonstrations using tablets examples of alerts when emergency vehicles approach and cases at intersections with poor visibility were introduced. "In a world where various vehicles are mixed in various parts of the world, it is natural that the "Hybrid V2X" will be put into practical use in the future," the company's development staff confirmed.
The test with the first machine has already been completed and it is aiming for mass production in the next 2-3 years.