Articles for ITS market
The International Home Care & Rehabilitation Exhibition.
There were many car manufactures with exhibits booths at this show.
Mobility was the focus for the International Home Care & Rehabilitation Exhibition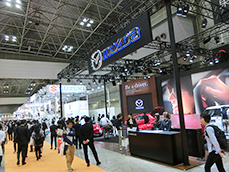 In the International Welfare Equipment Exhibition, large booths of major automobile manufacturers line up.
This year, the largest welfare event in Asia "International Welfare Equipment Exhibition" (October 12 - 14, 2016) was held in Tokyo. The latest in welfare equipment was exhibited Many countries such as Japan, the United States, Europe, China and South Korea were represented at the Show. In general, there is a strong demand for medical care and nursing care for elderly people and physically impaired people. In fact, the exhibits on nursing beds and management systems for treatment for hospitals and nursing care facilities were outstanding in the venue.
Meanwhile, a lot of systems for "moving" also appeared. The most prominent were the car manufactures. Toyota, Honda, Nissan, Mazda, Suzuki and Daihatsu set up a large booths like they do at large motor shows and arranged the latest welfare vehicles. The most common type of vehicles were minivans. For large minivans such as "Hiace" and "Caravan" are owned by hospitals and welfare facilities and used to carry facilitiy users to and from their homes. On the inside of the rear hatch-type door, there is a lift for loading wheel chairs. For medium and small minivans such as "Serena" and "Scienta", elderly people who use car chair and families who live with handicapped people also use for daily life activities. When the vehicle becomes more compact, they increasae the car height. This can be seen in the "Tanto" and "Spacia".
In addition, there are also mass production vehicles equipped with functions that allow accelerator and brake operation as well as steering operation with both hands and functions that allow steering operation be operated only by both feet. Among them, the most popular was the line of the Mazda sports cars like the "Roadster". It was very popular and many people gathered around it all the time and asked the explanation details for the vehicle's equipment. The manufacturing method of such special equipment differs depending on the automaker. One is a case where outsourcing of special parts and when cars are delivered from car manufacturers to car dealers, the specialized parts are transfered to a specialist and parts are then installed by specialist. The other is to have special facilities for special vehicles as part of the manufacturing line of car manufacturers.
The Evolving of Personal Mobility and the necessary of legal improvement

In the booth of car manufacturers, the other conspicuous presence in passenger cars and minivans is the steering wheel type chair such as Suzuki "Senior Car" and Honda "Monpal". These cars have been spreading to all of Japan as a walking aid used that elderly people who do not have a driver license or those who have returned a driver license to the traffic division of a police because of old age or inability move around their homes. There were also products made in China and Taiwan, some of which are self-running with two wheels like "Segway", but this is not permitted for use on public roads. It is limited to private use and use within the facility. Although it was not exhibited in this international welfare exhibition, but the utilization of personal mobility "UNI-CAB" shaped like a "small chair" developed by Honda. They have begun including some demonstration tests. It is not only for elderly people, but also for use as a general mobility tool in large shopping malls and museums.

Such personal mobility is currently positioned as a "walking aid". There are almost no "obligations" or "regulations" regarding road traffic like bicycles, motorcycles and four-wheeled vehicles. Under such circumstances, there are many cases that users of an electric car chair or a handle type car chair injure or die because they fall down by themselves or by touching a car. For detailed data, the Japanese Consumer Affairs Agency compiles it as a report once every few years, so please refer to their website.

Regarding the personal mobility, Japan has always said "I want to do some kind of legislation." Among them, there is a proposal to incorporate personal mobility into the framework of "ultra-small mobility" which is undertaking verification tests throughout the country from six years ago. The government is considering establishing new vehicle regulations. As for this field, I have been reporting for many years and I am aware that there are many problems for developing new legislation. Besides, personal mobility can be an early countermeasure against the aging society and we think that "prescribed clarification" should be done at an early stage.
For personal mobility, a positioning system (GNSS / IMES) can be used indoors and outdoors inevitably

While promoting legal maintenance of personal mobility, I would like the Japanese government to be obligated is a position measurement system that can be shared indoors and outdoors. In outdoor positioning systems, it is natural to use GNSS (Global Navigation Satellite) by GPS (Global Positioning System) etc. Also, indoor positioning system includes Wi-Fi, Bluetooth, and others that utilize a gyro sensor.

Under such circumstances, IMES (Indoor Messaging System) by QZSS is attractive as the positioning system that can be shared indoors and outdoors. The GPS transmitter is installed indoors and the IMES signal is sent in the same band with the GPS to the indoor GPS receiver to perform the position measurement. Hitachi and others are selling the transmitter and SOFTBANK etc are selling the dedicated receiver. SOFTBANK is collaborating with the mobile network and in the automotive industry. It is put into practical use in experimental vehicles running in Honda's research laboratories.

The QZSS is aimed at complementing the GPS and the person in charge of the Japanese major electric machine manufacture that manufactures the QZSS testifies "the QZSS and the GPS are about the same thing." Therefore it is possible to create an environment where GPS can be received both indoors and outdoors.
However there is a problem here. The problem is this can only be used only in Japan. Furthermore, it is necessary to apply for installation of JAXA (Japan Aerospace Exploration Agency) for the permanent installation of the transmitter because JAXA is permitted to use IMES only for QZSS by the US government. As the US government, it shows a cautious attitude towards sending the same signal as GPS in the United States and other countries and regions.

Japan has own QZSS that is why we should take more opportunities to make effective use of the IMES benefits. Among them, it is desirable for IMES to mandate personal mobility in order to ensure peace of mind for elderly people and those with physical disabilities.