Articles for ITS market
Companies attempt new Vehicle-to-Infrastructure communications, including traffic volume measurements and vehicle positioning. -ITS Asia Pacific Forum in Fukuoka-
ITS Forum was held in Japan for the first time in 22 years. Countries and governments commended the city's redesign.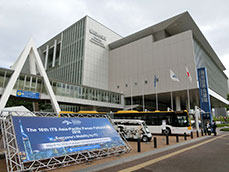 Fukuoka International Conference Hall is located at Fukuoka Port area.
The ITS Asia Pacific Forum was held on May 8 - 10, 2018 at Fukuoka International Conference Hall. ITS is an abbreviation for Intelligent Transport System and has an important role in the development of next-generation cars. Regarding the ITS Forum, there are three distinct sectors , International, Europe, and Asia Pacific. ITS related forums will be held in Japan for the first time in 22 years since Tokyo in 1995.
Many research institutes including governments, automobile manufacturers, auto parts manufacturers, IT-related manufacturers and universities in Asia and Oceania participated in exhibitions and lectures at the forum. The main items were many announcements on the automated driving and connected cars. On the technical side MaaS (Mobility as a Service) and the service business.
Also each countries government emphasized redesigning cities that they would support MaaS related policies in the future. Combining buses, trains, trams, bicycles, taxis, ride sharing and walking they aim to eliminate congestion in urban areas and reduce greenhouse gas emissions.
Utilizing sensor technologies to measure traffic volume and vehicle position are original ideas from ITS in the 1990s.

Japan was an early world leader in this technology.
In the background there are various service projects in which the public and private sectors collaborate.
For example, Japan introduced ETC (automatic toll collection system) utilizing DSRC (Narrow area communication) on highways nationwide. Japan also introduced VICS (Vehicle Information and Communication System) which provides traffic information such as traffic congestion to onboard units, initially in the Tokyo metropolitan area.
In addition Japan is home to the most popular in-vehicle car navigation system in the world and technology competition among companies has further advanced in-car navigation product development. This environment at the ITS Asia Pacific Forum attracted the attention of various sensor technology companies for installation on the road side and efforts to utilize them to measure traffic volume and position of the car.

The following summarizes each company.

I hope that new business models related to ITS will continue to be generated from Japan into the worldwide markets by continuing the various sensing technologies mentioned in the article above.