Articles for ITS market
Geneva show in Switzerland. Flying cars and MaaS (Mobility as a Service) were hot topics.
Many high-end EVs were announced during press day.

The annual Geneva show was held this year and press releases were also announced on March 6 before being publicly released.
Show highlight exhibits included high-class electric vehicles (EV) from Porsche, Jaguar and others. In the European market, the European Commission (EC) stipulates the world's most stringent CO2 regulation for automobiles. Specifically since it requires 95 g / km by 2021, automobile manufacturers have been promoting powertrains including hybrid cars and plug-in hybrid cars. In addition the EC set a target value for new CO2 regulation in the latter half of 2017 and aims to reduce them by 30% from 2021 to 2030. In order to clear the stringent CO2 regulations it is essential for automobile manufacturers to introduce EV's into the market earlier than originally planned.

Amid such market changes in Europe why are only high-class EVs being introduced one by one rather than smaller, less expensive EVs?
It relates to European automobile manufacturing companies sense of competition to Tesla. Tesla has increased the 4-door coupe model S and SUV's model X unit sales and also started manufacturing the middle-class model 3 in the latter half of last year. The fact is that Tesla is trying to monopolize the high-end EV market.
In response to Tesla's aggression in this market segment luxury car manufacturers including Daimler have an increased sense of crisis.
In response to the strengthening European CO2 regulation they are planning to strengthen sales of high-end EVs now, which is necessary to meet the New Energy Act (NEV law) to be implemented in China in 2019.
As a reference, EV sales volume in 2017 was about 777,000 units worldwide. About half of these (420,000) were sold in China. When comparing unit sales by model Chinese manufacturers are prominent however China-made EV's are only sold in China and worldwide recognition is low.
Mass production of the Flying car may start within five or six years.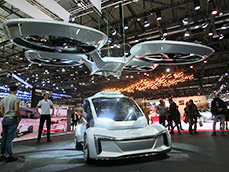 A flying car that was jointly designed by Italy's Ital Design and Airbus.
In addition to EV the media attention at the Geneva show was focused on the flying car.
Ital Design, generally known as Carozzeria, a well-established Italian design development company announced a concept model in cooperation with Airbus. The feature is that people occupy a different space when flying and are separated from land travel. In flight operations and vertical takeoff and landing is done using four large electric fans. After landing it separates from the fan assembly, integrating into normal road travel as electric vehicle platform.
A person in charge of Ital Design responded to the report saying "I want to start mass-produce in 5 or 6 years," showing an aggressive stance towards this new business.
In other flying cars news there are moves aimed at mass production in 2025 - 2030 time frame by Uber technologies, the U.S. ride sharing service and also major companies and semiconductor giants such as Intel.
In the future and in addition to revising air and road traffic laws in each country, concrete discussions on securing flight safety will increase in all over the world.
Volkswagen (VW) announced investment of 40 billion US dollars in MaaS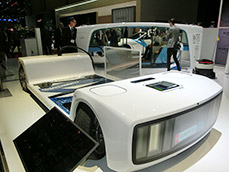 Concept MaaS model exhibited from RinSpeed a Switzerland company.
Alternatively German Volkswagen Group (VW) attracted some media attention from EV and flying cars.
One day before press day VW held their own event in Geneva where they announced an investment of 40 billion US dollars total for the MaaS project by 2022.
MaaS is an abbreviation for mobility as a service. In general it often refers to a new automotive business related to consumer economies such as ride and other sharing technologies.
In my personal opinion I think that MaaS is a new automobile service that combines three technical fields. They are electrification (EV), automatic operation (AV) and connected (CV).
The core business of MaaS that VW promotes is the ride sharing service "MOIA". It will use vehicles modified for automatic, on-demand type operations and be based on medium-sized minivans manufactured and sold by VW. In Japan Nissan and DeNA conducted verification tests in Yokohama using a concept close to Easy Ride, a transportation service that utilizes automatic driving technology. In the case of Nissan / DeNA, they decided to proceed with commercialization in the early 2020s. In the VW announcement they declare the investment amount and investment period, clearly stating VW intends to become the world leader in MaaS.
In addition Daimler also showed interest using the marketing term CASE (Connected, Autonomous, Shared, Electric). The articles on MaaS are gradually increasing even in the Japanese economic media.
Also Toyota has announced the e-Palette Concept for MaaS during the USA CES show in January 2018. There is an impression that the fight for leadership in the MaaS market is intensifying everywhere in the world.