Articles for ITS market
Big data's initiative and fight for the automotive industry. Cooperation among companies becomes increasingly important.
Switch from manufacturing to data business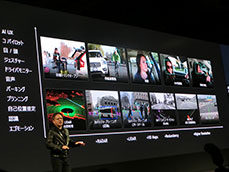 Mr. Jensen Huang, CEO of NVIDIA had a speech in the GTC Japan show 2017.
The automobile industry is now in the midst of a major transition period that is cyclical and happens after many years of low technological growth. In the beginning of December I witnessed these changes at the US semiconductor giant NVIDIA sponsored, 2017 GTC (GPU Technology Conference) Japan show in Tokyo on December 12th and 13th.
GPU (Graphics Processing Unit). It is a semiconductor (processor) used for arithmetic processing of images as the name suggests. In recent years, it is often used for deep learning and image recognition (Image Recognition) in automatic driving systems. Generally this field is called artificial intelligence (AI).
Until now the positioning of semiconductor manufacturers in the automotive industry was considered tier 2 (secondary subcontractor), who is a supplier to automotive parts manufacturers. Technically the main purpose was to accuracy operate various operation devices such as engines, transmissions, power steering, etc.
However, in recent years, demand for high-performance semiconductors has increased for new technical fields including collaboration between automated vehicles, embedded system (smartphone) and the cloud and image recognition for autonomous driving.
At the recent GTC show the keynote speech by Mr. Jensen Huang, CEO and founder of NVIDIA strongly promoted autonomous driving for the automobile industry.
Also at the end of November I visited the new building at NVIDIA in San Jose, California and received detailed information regarding the company's automatic vehicle operation. In addition individuals from Intel headquarters (a NVIDIA competitor) also visited and attended an automated driving workshop.
The biggest reason why Silicon Valley semiconductor giant has decided to make full-scale entry into the automobile industry is to commercialization and utilize the new big data segment.
Toyota and Panasonic strength their collaboration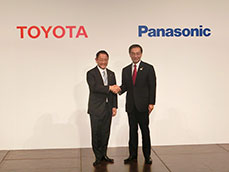 TOYOTA and PANASONIC announced cooperation for development of a prismatic battery for EV. The presidents of the two companies participated and held a presentation in Tokyo.
Mr. Jensen Huang, CEO of NVIDIA had about a 2 hour speech at the 2017 GTC Japan show. Toward the end of the speech I received a message on my mobile phone. The message was sent by TOYOTA's Public Relations Department. It said there would be a joint press conference between Toyota and Panasonic at 3 p.m. later that day in Tokyo. The conference made a general announcement and notified us of the big news. I adjusted my afternoon schedule and took a seat in the middle, front row in the Toyota Panasonic press conference. During the question and answer session I had an opportunity to ask questions to Mr. AKIO TOYOTA, a president of Toyoda and Mr. KAZUHIRO TSUGA, a president of PANASONIC.
The main point of the press conference is to confirm the two companies are collaborating to develop prismatic lithium ion secondary batteries for EV's (Electric Vehicles). However, the detailed contents were not disclosed including who, when, how long, and how the cooperation is structured. Batteries for hybrid vehicles continue to be delivered from PANASONIC to TOYOTA. However the overall significance of this meeting was to confirm both companies will extend their partnership beyond batteries to include future comprehensive technical alliances. There are many press outlets who think that they will include "big data" as a key point in this alliance.
Big data becomes larger, but the business model is still unknown.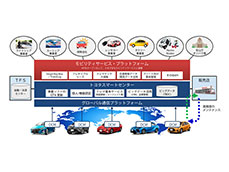 Overall view of Toyota's proposed mobility service platform. Source: Toyota Motor Corporation.
How do you utilize and commercialize big data in the automobile industry? The business model has not been established yet. For example in TOYOTA's case there is a mobility service platform that has been announced for end of 2016.
By 2020 TOYOTA will equip vehicles with DCM (data communication module) for transmitting and receiving data to the cloud for all new cars released in Japan. TOYOTA can obtain detailed user data on how the the car is being used such as GPS position information, acceleration / deceleration angle (Steering Angle), etc.
It is conceivable such big data would first be detected and later the user would be notified of the failure and guided to the dealer. This would help increase profit to the dealer. Regarding car insurance, the basic system of insurance will change from "PAYD" (Pay As You Drive) corresponding to "travel distance" to "PHYD" (Pay How You Drive) corresponding to "how did you drive".
Various vehicle usage method models can be combined including new car sales, used car sales, leasing, and car sharing among individuals. In response to the user's driving habits and lifestyle it is possible to improve user convenience and reduced costs can be achieved.
By understanding "big data" in this way the automobile industry will make a major shift from traditional manufacturing and sales business model to a more service oriented industry by utilizing big data.
As a result relationships between automobile manufacturers and other companies will continue to strengthen. This includes semiconductor manufacturers NVIDIA, INTEL and electric manufacturers like PANASONIC, SONY, and cloud providers like AMAZON, GOOGLE and MICROSOFT etc.