Articles for ITS market
Standardized EV charging infrastructure concerns in Europe, US, Japan and China - Kobe EVS 31 field report -
ESV was held in Japan for the first time in 13 years.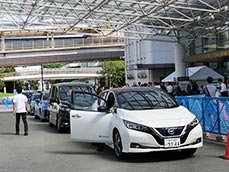 EVS 31. At Kobe Port Island, a test ride for EV and fuel cell vehicles was also held.
The International Conference on Electric Vehicles including EV, Fuel Cell Vehicles and Exhibition "EVS 31 (The 31st International Electric Vehicles Symposium)" was held at Kobe International Conference Hall from September 30th, 2018 to October 3rd, 2018.
EVS began in the 1980s and has been held around the world in Europe, America and Asia. In 1996 Japan hosted the 13th conference in Osaka, the 22nd conference in 2006 in Yokohama and 13 years later the current conference in Kobe. 1300 individuals from all over the world, including engineers, automobile manufacturers, automotive parts and battery manufacturers and researchers from educational institutions and universities attended.
At the exhibition, in addition to EV vehicles technical exhibits on chargers and batteries were very prominent. Japanese automobile manufacturers including Toyota, Nissan, Honda, Mazda, Suzuki, Subaru, Mitsubishi, and truck and bus makers exhibited. The venue atmosphere was like a motor show.
EV joint development based on Toyota is moving forward

Among them, Subaru unveiled the plug-in hybrid car "Crosstrek" to the world for the first time. It is a North American version of the Japanese cross over car "VX". "XV" and incorporates the new model Subaru Global Platform (SGP) adopted from "Impreza". The driving performance has improved dramatically when compared with the previous cars and sales are strong in Japan. In October 2018 the hybrid system "e-BOXER" was adopted into the "Forester" and has just appeared.

In this plug-in hybrid car Subaru adopted a newly developed two-motor system rather than just improving the one motor "e-BOXER". According to Subaru's development manager the motor is the same as Toyota's hybrid system "THS II". Subaru uses technology on their plug-in hybrid vehicles provided by Toyota such as the inverters controlling motors and onboard chargers. Toyota and Subaru have undertaken comprehensive technical alliances such as collaborating on the development of the sports car "86" and "BRZ". However this is the first time for a joint development of the electric car system. 

Joint development of electric vehicles among the Japanese automobile manufacturers, mainly Toyota is expected to expand in the future. This is because electric car systems need huge initial investments. It is also necessary for newly adopted electrical and IT related technicians who have, up to now not previously engaged in the automobile industry. Toyota centrally manages such costs and labor and has the mechanism to provide to Subaru, Mazda, Suzuki and Daihatsu (subsidiary of Toyota) who are already technically affiliated with Toyota. As part of that EV C. A Spirit partnership includes a core EV development company by Toyota and Toyota's technology subsidiary DENSO was founded in 2017.
Charging infrastructure issues delaying full-scale EV standardized distribution

In order for EV to gain popularity three issues must be overcome: (1) cost of storage battery, (2) mileage per charge, and (3) charging infrastructure.
There has been a big change in the cost of storage batteries in recent years. For example lead-acid storage batteries are used in automobiles for engine start up and a power source for electrical equipment inside the car. For EV's, lead-acid batteries were mainstream until the 1980s but due to low output per volume and heavy weight they are not suitable for mass production except for specific vehicles like small motorcycle EV's. Subsequently Toyota adopted a nickel-metal hydride battery for their hybrid vehicles causing the cost of larger batteries to drop sharply. Furthermore in recent years enforcement of the New Energy Vehicle mandate is mandatory for all 2019 EV's. This caused a dramatic increase in lithium ion batteries production while associated costs have been drastically decreased.
By reducing the cost of such storage batteries it was possible to install more storage batteries and improve the mileage per charge. Timing and frequency of charging using the information and communication between the EV and the outside infrastructure (called a connected car) convenience is improved even with smaller battery capacity and shorter traveling distances in an EV.
The third challenge is charging infrastructure. Nissan "Reef" and Mitsubishi "i-MiEV" were mass-produced in Japan during 2010 and the government provided a strengthened subsidy system for installing charger. The number of chargers for EV has increased all over the country. According to the map publisher Zenrin, as of May 2018 ordinary chargers with 100 to 200 V alternating current are at 21,200 units. While 7,420 fast chargers that convert alternating current to direct current and charge with high output in a shorter time have also been installed. However the overall world view shows there are still significant challenges in terms of charging infrastructure distribution. Having a standardized charging infrastructure is imperative to the EV's future success.
There are three types of fast chargers: CHAdeMO system in Japan, GB/T system in China, CCS (Combined Connector System) in Europe and the United States. In August of this year Japan and China announced that they will cooperate on rapid charging standards. Specifically Japan will provide technical assistance to China.
On the other hand with regard to the CCS system there is no appearance of cooperation between Japan and China. Meanwhile CCS is recommended by three major German companies (Daimler, BMW, VW group) and three major US companies (GM, Ford, FCA).
In the Panel Discussion at EVS 31 a representative of the organization promoting CCS said, "CCS is the most useful method for users and we have no ideas for collaborating with CHAdeMO or GB/T.

EVS 31's scene revealed again that there are still a lot of challenges left for full-scale, standardized distribution of EV.