Articles for ITS market
Connectivity technologies attracting attention due to frequent traffic accidents
Traffic accidents are decreasing. What are the 4 reasons?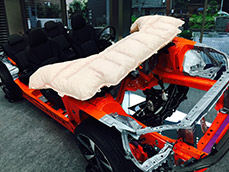 Technical display of air bags for pedestrian protection by SUBARU
During April and May of 2019, traffic accident coverage has increased.
This coverage included an vehicle accident that occurred in Shiga Prefecture, Japan where a nursery aged child on a walk died. In addition, an accident involving bikers and pedestrians caused by an erratic driving elderly driver in Ikebukuro, Tokyo. Furthermore, sad incidents such as runaway traffic accidents due to drunk driving occurred in rapid succession throughout the country.
In this article I would like to think about the current situation and the future of traffic accident measures by the Japanese government and car manufacturers in Japan.
Looking at recent traffic accident reports you may conclude that traffic accidents are increasing, but the number of traffic accidents and number of deaths from traffic accidents are actually decreasing.
According to the National Police Agency the number of traffic accidents have almost halved in the past 10 years and by 2018 they are less than 500,000 annually. The number of fatalities from traffic accidents have fallen sharply to less than a quarter or 3532 compared to the highest levels in 1970.
There are four main reasons behind this downward trend.
The first reason is the improvement of basic vehicle performance including "Run, Turn, Stop, etc.". The parts quality that make up the vehicle, including the body, engine, suspension, and tires have also improved. The overall performance of vehicles has also improved. The precise movement of the car to the driver's input leads to safer and more secure driving, resulting in fewer accidents.
The second reason is the development of better infrastructure including roadways. During the 1970's unpaved roads were prominent in some parts of central Tokyo, but now most of the major roads in Japan are paved. This has made it possible to better utilize basic vehicle performance characteristics including "Run, Turn and Stop". Particularly in cases of rain and snow, the safety of vehicles and pedestrians has increased.
The third reason is the improvement of vehicle crash safety performance. Development of a vehicle body structure has advanced to reduce damage to passengers in the event of a collision. In addition, from the viewpoint of pedestrian protection new technology is introduced including the materials and shape of the outer body surfaces. Recently vehicles equipped with a pedestrian protection air bag that opens from the hood have also appeared.
The fourth reason is development of preventive safety technologies to avoid or reduce the impact of collisions. The inclusion of standard equipment including ADAS (Advanced Driver Assistance Systems), which are automatic braking, accelerator and brake misplacement prevention devices are now in progress.
In addition to the above four reasons, the V2X system includes vehicle to pedestrian communication which is necessary to further reduce traffic accidents.
When will vehicle to pedestrian communications be achieved?

The V2V is Vehicle-to-Vehicle communication where vehicles are connected. V2I is Vehicle-to-Infrastructure communication where infrastructures such as vehicles and roads are connected and V2P is Vehicle-to-Pedestrian communication where cars and pedestrians are connected.

V2X is a generic term for connectivity that connects the vehicle to external devices outside of the vehicle.

In recent years, in the development of automatic driving technology, full-scale tests for commercialization of V2I on expressways are in full swing. The V2V is now at a level that can be put to practical use by vehicles from this same car manufacturer. However in the future development is expected to expand from early V2V development to systems that support all vehicle manufacturers.
The recent serious traffic accidents involving pedestrians near intersections highlights the need to implement V2P into practical use quickly.

In recent years vehicle manufacturers have set up test areas that simulate urban settings including intersections within their own test courses, and are promoting technology development for Vehicle-to-Pedestrian communication.
Also major electronics companies that manufacture and sell ETC 2.0, etc. are conducting experiments for the practical use of V2P. For example, Panasonic with the 2020 Tokyo Olympic and Paralympic games in mind are conducting V2P experiments on public roads in the Odaiba area in Tokyo.
The important thing with V2P is to understand the exact position relationship between vehicles and pedestrians. Normal GPS cannot handle V2P because the position error can sometimes exceed 10 meters. Therefore we are performing localization with an error of only tens of centimeters by using Quasi-Zenith Satellite "MICHIBIKI" satellite positioning along with 1300 nationwide electronic reference points.

In addition, V2P practical use with cameras at intersections and communication in the 700 MHz band is also being developed in parallel with satellite positioning.
For full-scale practical use of V2P, cost reduction by combining various technologies efficiently is inevitable. Another issue is who pays the costs? Will the local government, police agencies, telecommunications infrastructure companies, vehicle manufacturers or vehicle parts manufacturers bear the cost? Or will these transportation-related companies and public agencies jointly bear the costs?

In order to eliminate disastrous accidents at intersections etc., it is necessary to put V2P into practical use as soon as possible.