Articles for ITS market
The 'Complete' online sales of new cars start in Japan. Will this new way of buying cars take root?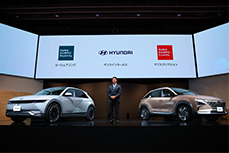 Scene of a press conference on Hyundai's re-entry into the Japanese market. Source: Hyundai Mobility Japan.
Hyundai Motor (Hyundai) launches 'Complete' online sales in May 2022.

'I have no qualms about buying a car with my smartphone'.
This is a concept that is gradually spreading among multiple generations, especially among digital natives, who have grown up surrounded by a variety of electronic devices in their daily lives from an early age.

However, a review of the finer points shows that the use of smartphones and personal computers to purchase a car has so far not reached the point where the entire process, right through to the final purchase, can be carried out consistently.
For example, Volvo Cars Japan has been selling electric only EVs online including the Volvo C40 Recharge, introduced in Japan in 2021, but sales contracts and payments with customers are handled by existing authorized dealers.

In addition, certified pre-owned vehicles, which car manufacturers have recently increased sales of, and subscription models such as Toyota's KINTO, also require customers to send documents back and forth with them by post for credit screening and other purposes.
Against this backdrop, South Korea's Hyundai Motor (Hyundai) announced that it will start selling new cars fully online in Japan from May 2022.
According to an announcement by Hyundai Mobility Japan, the first two models to be launched are the IONIQ 5 electric vehicle (EV) and the NEXO fuel cell vehicle.

The specifications of the IONIQ 5 include a maximum output of 225 kW and maximum torque of 605 Nm for the four-wheel drive model. A battery capacity of 72.6 kWh and a fairly long range of 618 km on a full charge for the rear-wheel drive model.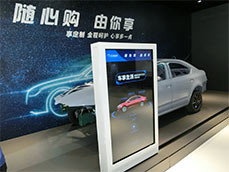 Chinese manufacturers are aggressive in online sales after electrification and connected technology. Photo by the author. (Image Photo.)
To virtually non-store retailing.

In terms of sales, Hyundai has not set up an authorized dealer in Japan, and is effectively a non-store retailer.
Prospective buyers can check vehicle information on the Hyundai website and, if necessary, consult with a dedicated customer service center via telephone or social networking.

Credit checks and settlements are also completed online after the sales contract has been signed. The purchased car is then delivered to the purchaser's designated location, such as home.
It is exactly like buying home appliances or groceries on Amazon or Rakuten Ichiba, where you buy a new car.
Regular inspections and repairs are carried out by Hyundai Mobility Japan's affiliated maintenance shops across the country.

There are several reasons for Hyundai's decision to go complete online sales this time.
For example, as a re-entry to Japan after 12 years, the company wanted to have a significant impact for users and the media.
Hyundai conducted business for passenger cars in the Japanese market from 2001 to 2009, selling a cumulative total of approximately 15,000 units, but withdrew from the market. Jae-Hoon Chang, CEO of Hyundai Motor Company, Hyundai's head office, recalls the difficult situation at the time, saying that the company was unable to listen carefully to the voices of each and every one of its valued customers.

On this basis, it can be said that Hyundai has decided to build a virtual sales network in Japan, taking advantage of the fact that as a result of its withdrawal from Japan in 2009, it no longer has a nationwide sales network.
Such next-generation business models will continue integrating with various areas in the automotive industry's major transformation, such as new services including connected, automated driving and sharing, and electrification.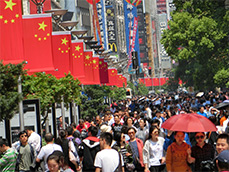 View of Shanghai city. Photograph by the author.
Online sales are thriving in China. While in the USA, in-store sales are still the norm.

Let's shift our perspective to foreign markets.
'In the US, where IT giants like Apple, Google, Meta (formerly Facebook), Amazon and Microsoft are concentrated, online sales of cars must be on the rise.'
Many people might think so.
The reality of the US market, however, is very different.

Both new and used cars are predominantly bought and sold at old-style car dealerships.
In this regard, an executive from a major US car sales supervisory company explained that this is because state laws protect car dealers.

In the USA, dealerships have set up their own websites that are similar to online sales, but the reality is that they are limited to checking the specifications of vehicles in the dealership's inventory. In the USA, the general business model is that dealers place regular orders with manufacturers and keep the cars they purchase in stock.
As a state government, it is thus clear that it is committed to protecting local dealers. And US dealers are skeptical about online direct sales from the manufacturer to the user.

Meanwhile, online sales of new cars worldwide have spread fastest in China.
The reason behind this is that many manufacturers found it difficult to build a sales network throughout China during the rapid economic growth from the 2000s.
The regions with the highest new car sales in China are coastal areas such as Beijing, Shanghai and Guangzhou, or areas relatively close to the coast, and new car dealerships have been concentrated in these areas.

For medium-sized inland cities and even smaller cities, from the 2000s to the beginning of the 2010s, some manufacturers have been actively promoting their new vehicles by transporting them in a fleet of several large trucks and holding temporary exhibitions on site. Thanks to such efforts, the number of dealers contracted by manufacturers in medium-sized and smaller cities gradually increased.
On the other hand, some cities and regions have emerged where there are no dealers.
In response, car manufacturers began to sell new cars over the phone, with regions and cities where there were no dealerships available. They strengthened their very online sales, with dedicated call centers and local maintenance shops working together.

Furthermore, in the 2010s, China's IT Big Three (Baidu, Alibaba and Tencent) expanded their business rapidly as smartphones became very popular in China.
In this context, Alibaba began to actively develop new car sales on its online sales portal site, Tmall.
As various online sales of household goods and other products are expanded in China in the future, a more advanced business model for new car sales may also emerge.

Will the day come when fully online sales of new cars become mainstream in Japan?
We will be keeping a close eye on developments at Japanese car manufacturers.