Articles for ITS market
Renesas´ new challenge! "e-AI Solution" and "Renesas Autonomy"
DEVCOM conference Renesas aiming for a major revolution in automobile industry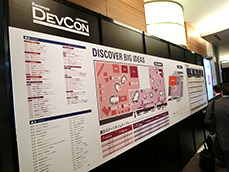 At the DEVCOM venue. A lecture was held at each department for a developer's meeting.
Renesas Electronics, the largest automotive microcontroller and microprocessor manufacturer - (hereinafter both are abbreviated as microcomputers) held the DEVCOM conference in Tokyo for developers for the first time in two and a half years on April 11, 2017.
The timing of this "two and a half year" delay indicates a major revolutionary period in the automobile industry.
As is well known, the automotive industry is promoting three huge trends, motorized powertrain, connecting to the cloud and autonomous driving.
Needless to say, IT is important in technical fields such as these, the core of which is semiconductor. The movement of restructuring in the overseas semiconductor industry is accelerating. In March, Intel restructured in the United States and acquired SOFT (System on the chip) Mobileye, an Israel company for image recognition technology at $15.4 billion. In June of last year, Intel and Mobileeye announced a business collaboration with three companies including BMW. However many people in the automobile industry still predicted they would never take over.
Similarly in March, German auto parts giant Bosch announced a cooperative effort with nVIDIA, a major GPU with superior image processing performance. NVIDIA is researching and developing proprietary algorithms with Audi in Germany and Tesla in the US for automatic driving and machine learning using a GPU. Bosch continues research, development and practical applications of image recognition and autonomous driving technology. This is why attention continues to grow regarding the types of technology these two companies will commercialize in the future.
Amid these social issues and with regard to the Renesas trend as the largest automotive microcomputer supplier, car manufactures have been anticipated this announcement from Renesas.
World first! "E2-studio" which is provided free of charge as an "e-AI solution"

In this keynote lecture, Renesas said "The world will head towards a super smart society from now on". Renesas newly set up "e-AI solution" to realize IoT (Internet of Things) is not only in automobiles but also in society as a whole including houses and factories.
"e-AI solution" is a business model that makes machine learning (deep learning) using artificial intelligence to communicate with embedded equipment.

With conventional design, human beings develop software, separately analyze the "big data" using artificial intelligence and collaborate using desktop tools. On the other hand, using an "e-AI solution" a unique platform called "e2 - studio (e - square air studio)" collaborates with the human developers. Renesas will provide this platform free of charge to automobile manufacturers and automobile parts manufacturers.
For automobile manufacturer's engineers, purchasing Renesas' microcomputers can shorten system design time and offer more advanced designs.
This is the first such attempt for a worldwide manufacturer of automotive microcomputers.
"Renesas · Autonomy" that deepens the coordinating recognition, judgment and operation of automatic driving

Another current big topic is "Renesas Autonomy" which supports comprehensive autonomous driving technology.
The autonomous driving reproduces the routine work that human beings utilize to drive, such as cognition, judgment and maneuvering. Furthermore it is necessary to provide safer and more optimal driving conditions than human beings can offer.
The philosophy of "Renesas · Autonomy" is that for each of the three categories, cognition, judgment and operation, Renesas deeply innovates the technology and tightly integrates all three areas together. First they will expand sensor technology for cognition. Specifically by installing the "RH 850 / V 1 R - M" in a millimeter wave radar that uses the 77 to 79 GHz frequency band, this improves the speed of detection by about three times when compared with existing products.

In the camera the "R-Car / V 3 M" was installed to enhance detection capabilities. Instead of using an existing CPU or GPU alone, it uses an accelerator to individually specify five items necessary for image recognition. The five items include camera signal processing, lens distortion correction, filter processing, recognition processing and scene analysis and all are calculated separately. By linking this with the CPU it is possible to temporarily suspend the operation of some items intermittingly and drastically reducing power consumption in the overall system.
The Renesas engineer explained during the lecture that "In the deep learning that is optimized for autonomous driving, suppressing the power consumption of image processing microcomputers to 3 W or less is directly related to optimizing the deep learning." We emphasize the high level of Renesas technical capabilities by demonstrating the difficulties between GPU operations alone and constantly computing the various items.

Also actual devices introductions of Renesas latest technologies such as electric vehicles and service robots, residential and social infrastructure. Also other various lectures were held throughout the day, and over 1000 engineers are excited about the future of the car technologies.