Articles for ITS market
Automobile Distribution Revolution and DCM (Data Communication Module)
Toyota, 5 years ahead of sales for all models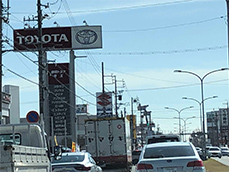 Toyota dealers in Shizuoka
In June this year, there was a shock in the Japanese automobile industry. Toyota announced that it will sell all Toyota models at all Toyota dealers nationwide five years ahead of schedule.
The simultaneous sale of all models means that the same model is sold at the Toyota, Toyopet, Corolla, and Netz stores, which are the four current Toyota dealer networks. The initial plan was announced at the nationwide Toyota Dealer Management Conference held in October 2018. In the Tokyo area, four dealers were eliminated on March 31, 2019 and operations were integrated as Toyota Mobility Tokyo from April 1.
Since Toyota headquarters has a capital participation in dealers in the Tokyo area, they were able to move quickly to a new sales system across the country. The problem is the reorganization of business outside the Tokyo area. Most of them are prominent companies in various regions that have franchise contracts from Toyota headquarters.
Toyota told them that they would like them to complete the sale of all models in all stores between 2022 and 2025. That's what we announced in October 2018. In the second half of June 2019, just eight months later, Toyota notified Toyota dealers in Japan that it will be completed by May 2020. Basically, it will be five years ahead of schedule. Not only Toyota-related personnel but also Japanese automakers cannot hide their surprise of such a bold decision.
The reason for 5 years advance

Then why was it five years ahead of schedule? Toyota has not disclosed the details, but when talking to Toyota officials, there are many voices saying "The dealer network has a sense of crisis about future business and wants to change to the new sales system as soon as possible."
Domestic sales are at the peak of the overall market with mini vehicles accounting for over 40% of the market. In terms of sales performance mini cars dominate the top sales ranking while Prius and Aqua which were once the sales leaders for Toyota are sluggish.
On the other hand, in terms of manufacturing, high-precision, high-priced electronic components are being standardized. These include a brake system for reducing impact damage called automatic brakes and an accelerator / brake depressing device.. As for collision safety, design of vehicle bodies for protecting pedestrians and airbags that inflate outside the vehicle in the event of a collision are becoming more popular. Due to these various new functions it has become a major challenge for automobile manufacturers to respond to the rising manufacturing costs.
Measures include simplifying the manufacturing process by limiting the design requirements by promoting the common use of vehicle bodies and engines. Furthermore regarding the sales system, moves to reorganize a large-scale sales system is likely to accelerate. Toyota became a pioneer.
"DCM (Data Communication Module)" drives the technical background of dealer reorganization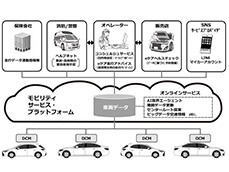 Illustration of Toyota's original cloud service using DCM Source: TOYOTA MOTOR CORPORATION
DCM is one of the reasons why Toyota was able to move forward with dealer reorganization one step ahead of other companies.
In August 2018 president Akio Toyoda explained the necessity of DCM at "Connected Day" held at the "mega web" of Toyota's commercial facility in Tokyo. DCM is an in-vehicle communication device. It sends CAN (controller area network) information connected to various in-vehicle ECUs (control computers) to Toyota's dedicated cloud service once a minute.
Starting with the new Crown and new Corolla Sport launched in 2018, it will be installed on all Toyota vehicles as needed.
So how does DCM relate to dealer restructuring?
The keyword is "elimination of separation, production and sales". Initially the auto industry focuses on the planning, development, and production of vehicles but auto manufacturers have no direct relationship with the subsequent sales. Except for some manufacturers such as Tesla in the US, there are no cases where automakers have direct dealers in the global market. In other words it is sales by the franchise method.
In Japan, Toyota's direct management ratio is about 10% while Subaru and Mazda have a direct management ratio of over 50% which is a unique industrial structure worldwide.
However, regardless of whether these dealers are directly managed or franchised automakers rarely come into direct contact with post-sales vehicle data. While it may seem that a directly-managed dealer often touches the customer's vehicle data, in reality the dealer is only involved in the minimum vehicle information necessary during repairs. The ownership of the data obtained therefore belongs to the dealer and is often not shared with automakers except for recalls.
In this way, automakers are in a wholesale business with dealers and automakers therefore do not have direct access to customer vehicle information. The reason has been influenced by the contract terms regarding customer data between automakers and dealers, including the relationship with the performance of communication equipment and communication infrastructure.
Toyota reviewed the terms of this contract at the time of DCM commercialization. As a result the four dealer networks have been reorganized.
As Toyota dealers change their relationship with Toyota headquarters in the future it is necessary to step into a new business model linking DCM with Toyota headquarters. This includes existing businesses such as new car sales, used car sales and vehicle repairs,
The automobile distribution revolution is in full swing in Japan, ahead of the worldwide automotive industry. Car dealers have now entered the Sengoku (survival) period.